The Lancers Wrestling Team Are In High Hopes This Season
The Lakeland Regional High School wrestling team is standing strong half way through the 2019 to 2020 season. With four returning seniors and ten juniors, the team  is in high spirits and many of the wrestlers feel more competitive than ever. With head coach, Joe Cervino, to guide them, the Lancers are looking to dominate the tale end of the winter season. 
The team competed in the Passaic County Tournament on Saturday, January 25, coming in fifth behind Passaic County Tech, Clifton, Passaic Valley, and Wayne Valley. Prior to that, they dominated rivals West Milford 51-24 on January 22, and just had a big win over DePaul on January 29, 64-18.

Coach Cervino told The Lancer Ledger he is "excited about watching the kids compete to the best of their ability." He expects the team "to work harder than any other sport team in the school." The wrestlers endure intense practices every night. The work ethic and determination the wrestlers stand by the team mantra that "practice makes perfect," and they continuously prove that statement everyday.  
This season, team recently lost their main heavyweight, but have promising lightweight contenders with sophomores David Hammerle and Joey Ribitzki. Hammerle and Ribitzki are bursts of energy on the mat and are always excited to compete and prove their uncanny talent. Last year, the two boys had very promising seasons as freshmen and have made it a goal to do the same this year.  
Seniors Kevin LaCourture and Rob Danza told The Lancer Ledger that they "feel great about the… season and think the team can make a big impact."
LaCourture and Danza have been wrestling all of high school. When asked what they enjoyed most about wrestling the last four years they said, "The environment and the relationships we made with our teammates and coaches." 
With a solid team and high spirits, the Lakeland Lancers Wrestling Team is predicted to continue having a strong season. 
Leave a Comment
About the Contributor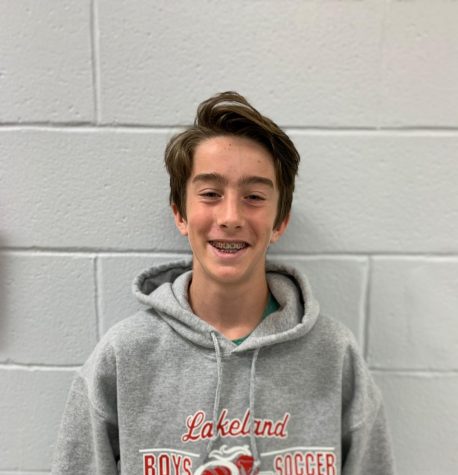 Nathan Caldwell, Lakeland News and Sports Editor
Nathan is a sophomore at LRHS and is a writer for The Lancer Ledger. Nathan is not new to the journalism field - this is his second year writing for the...