Spice Up Your Week with these Fun, Healthy Recipes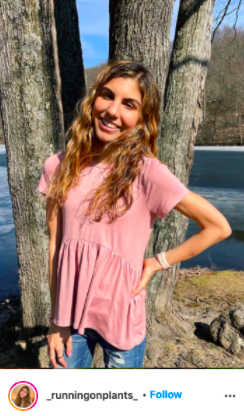 We've just "celebrated" the one year mark since the start of the Covid-19 pandemic. The Lancer Ledger surveyed staff and students, finding out many took to the kitchen to fill in all their free time. Whether it was Tiktok or Instagram that sparked your interest, over lockdown, cooking and baking became a pastime for many, including star athlete and junior Angelina Perez.
Perez has created an Instagram account  based on the different vegan meals she has made. Whether you're vegan or not, these meals are delicious and aren't hard to make. Make your weekend a little tastier with these:
Tasty Favorites
Perez's favorite recipes are buddha bowls and smoothie bowls. She shared the The Ledger,  "[These bowls are] both super easy to make and a great way to get a variety of nutrients in one meal." 
To make the buddha bowl you'll need a source of carbs, which could be something like sweet potatoes or quinoa. You'll also need some form of protein. Perez recommends tofu, tempeh, or beans. Finally, you can top it off with some greens such as steamed veggies. You can even add some avocado or hummus!
Smoothie bowls are very popular right now and aren't hard to make at home. You start by adding your pick of frozen fruits, such as bananas, berries, or mangoes. You can also add some frozen vegetables, like spinach or kale. There's no need to worry about the taste of the vegetables because you won't be able to taste it over all of the other ingredients.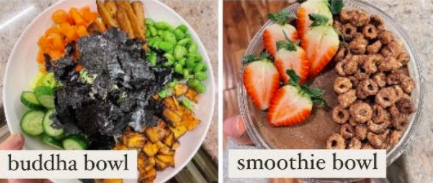 Perez mentions, "I will always add in a protein powder to my smoothie bowls because I think it adds good flavor, and it's a great way to get in more protein."
Then, blend the fruits, vegetables, protein powder and a splash of liquid all together.
With these bowls, you're free to customize them and make several different tasty meals.
Short and Sweet
A quick recipe that Perez shared was overnight oats. It takes about five minutes to prepare this meal, and overnight oats makes a great breakfast.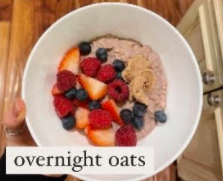 Overnight oats should be prepared the night before, hence the name. All you have to do in order to make this is add one part oats and one part water (you can swap it to plant milk or regular milk for a non-vegan option).You can also add fruit, protein powder, nut butter or anything you like.
Finally, store the oats in the fridge and enjoy the next morning for breakfast! Feel free to have it cold or to heat it up in the microwave, and you can choose to top your overnight oats with anything.
Some Nice Dessert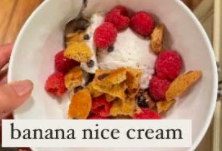 Perez's "Banana Nice Cream" requires very simple ingredients and tastes amazing!
The ingredients for this dessert are frozen bananas and a plant milk of your choice (or regular milk of that's what you prefer). All you have to do is combine the two ingredients in a food processor or blend it together at a low speed. Finally, top it with any topping you prefer, such as protein powder, cacao powder, nut butters or chocolate chips.
This tasty dessert tastes amazing, no matter the combination!
Time to Stir Up Some Dinner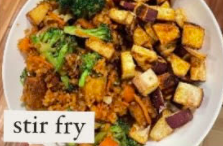 For a fun vegan dinner, Angelina recommends a super easy stir fry. Perez says, "I love making these because I can add in a huge variety of veggies along with my favorite sauces, and they always [turn] out tasting good!"
For a stir fry all you'll need are some vegetables such as broccoli, cauliflower rice, carrots and more. She likes to add sweet chili soy nuggets to her stir fry as well.
To make this you have to first prepare your vegetables by chopping them up. Next, sauté them in a wok or large pot. Finally top off your stir fry with a yummy sauce of your choice.
Advice From the Chef
Perez's number one cooking and baking tip is to "not be afraid to try something new."
She notes, "You have to learn to be creative in the kitchen…not everything is always going to turn out great and that's okay. Learning to become a good cook or baker takes time, but getting out of your comfort zone really helps!"
If you're interested in finding more tasty vegan meals as well as great advice, check out Angelina Perez's instagram account: @_runningonplants_
About the Writer
Angela Carrasco, Staff Writer
Angela is a sophomore at LRHS and is a staff writer for The Lancer Ledger. Joining both journalism class and the club, this is her first year writing for...