Behind the Scenes of the Lakeland Lunch Room: Featuring Senior, TikToker David Gordon
Lakeland Regional High School's lunchroom staff works wonders in the cafeteria. They provide hundreds of meals everyday to feed the school's hungry students and workers. 
The Crew
The hard working staff consists of Mr. John Norris, Ms. Elisabeth Cavallo, Ms. Rosann Walters, Ms. Leila Carrascl, Ms. Jill Palmieri, Ms. Susan P, Mr. Zach Z, and Ms. Natalie Margiotta. The crew is responsible for everyone's breakfast and lunch, which is free to LRHS students this year. Despite the weight of the responsibility they truly do an amazing job. 
The Ledger had the pleasure of getting to know the lunch staff and gaining insight to what it is like being a part of it. Ms. Cavallo began with, "Oh my god we're great!" and shared a laugh with fellow co-worker Mr. Norris. Ms. Cavallo added, "We have the best food at the best prices [mostly free]." 
When talking about the most popular meal selected by the students, Mr. Norris shared, "Most kids go for the pizza and lately the foods around the world." On top of pizza, fries, hot lunches, and sandwiches, there are many diverse options for vegetarians and others with certain allergies or dislikings. 
Another member of the lunch crew, Ms. Margiotta, can usually be found working the snack stand. Though it is usually difficult to see her face through the window, her kindness, hard work, and dedication shines through. She shared, "We're a team all together, we enjoy serving the kids and seeing the kids." Ms. Margiotta also expressed what it is like working with those around her, "We have a lot of laughs."
David Gordon
The Ledger talked with student and social media influencer from LRHS senior David Gordon. Gordon uses the social media platform TikTok to review, reflect, and even talk with others about the variety of lunch foods that Lakeland has to offer.
Gordon shared with The Ledger, "I make funny [and] humorous videos of me dancing, memes, jokes, [and] sports videos [as well as]  food reviews." 
For Gordon, he shared that this all began when "my friend Jordan and I thought of it one day at lunch at the beginning of the year. We thought it would be a fun idea. Then once I started doing them constantly, people enjoyed them so I continued to do them."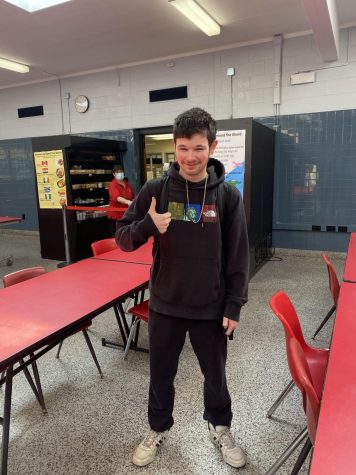 Gordon has strong opinions about the food and shared some of them. His favorite meal is the nachos. In one of his TikTok videos he rated them a 10/10. 
However, there are also some things he would change about the food. Gordon would make adjustments to the burritos. Though they are delicious, he would prefer a smaller portion as they, "Fill [him] very quickly."
Gordon hopes viewers get, "Entertainment, humor, and good vibes," from his videos. He sometimes even has guest stars, fellow students, as a part of the Tik-Toks. 
All of this discussed content, fun times, and humorous videos can be found on Gordon's page @ddawg15_sports_and_more. 
Leave a Comment
About the Photographer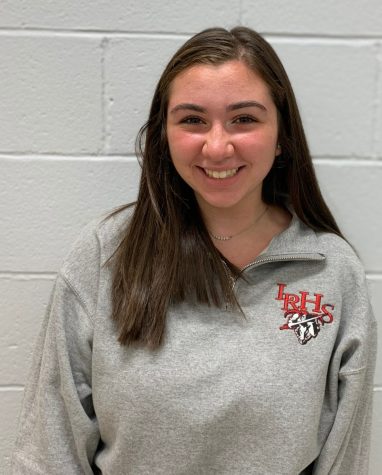 Emily Becker, Staff Writer
Emily is a freshman at LRHS and staff writer for The Lancer Ledger. While this is Emily's first year in journalism, she hopes to produce some informative...