WandaVision: A Must-See Marvel Masterpiece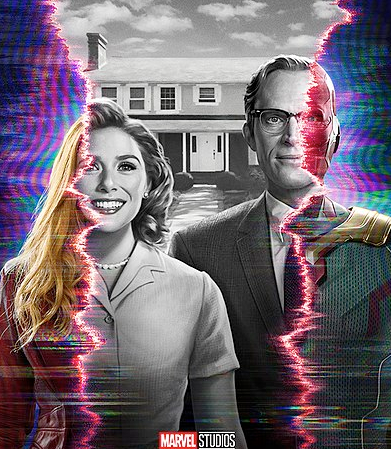 Marvel fans rejoiced this winter! The Marvel Cinematic Universe (MCU) continues to grow with it's new show WandaVision, debuting in February of 2021. The show, which is Marvel's first starring two Avengers, blew up quickly. The show stars Wanda Maximoff and The Vision, played by Elizbeth Olsen and Paul Bettany, and takes place coming after Endgame. 
WandaVision is better than a movie because fans get to see more of the characters in depth, and because the show released a new episode every Friday, fans were lefton edge for a week wondering… What was going to happen next? 
In the first episode,  Wanda and Vision are both now living in this alternate reality that began streaming as a show in the real world. A town under the name of Westview, had been captured in this large bubble that no one or thing could get through, but on the inside was the even bigger mystery: Wanda and Vision were now living together, but how? Marvel fans were left asking so many questions:How was this possible?  Agatha all along? 
Throughout the show, Wanda and Vision were going through different decades and timelines, leaving everyone on the outside asking how it was even possible. Fans also got to see previous characters brought back into the show such as Darcy Louis, Monica Rambeau or Jimmy Wu, which were very exciting getting to see them in action again.
 Marvel has always done an amazing job at putting little details into their movies and shows that long time watchers and fans could pick up. The show had such incredible detail and action all packed into it, people who hadn't seen Marvel movies before are now watching them because even they were now invested into the show. Every episode was like a little movie within itself. There was so much mystery, suspense and action all at once it was impossible to take your eyes off the screen. 
The most amazing part about the show was getting to see the chemistry between Wanda and Vision once again that fans had enjoyed and loved in previous movies. 
Tying it all together, the ending of the show was left on a huge cliffhanger. The amount of possibilities and different directions the show could be taken in was amazing, on top of being  one of the most heart wrenching endings. The writers and creators did such a great job tying the series all together in the end, like Marvel has done many times before. 
Make sure to take the time to stream WandaVision on Disney +.
Leave a Comment
About the Contributor
Gabby Davis, Staff Writer
Gabby is a freshman at Lakeland Regional High School and a staff writer for The Lancer Ledger. This is her first year with The Ledger, and she is enjoying...