Ms. Geyer: 2021 Teacher of the Year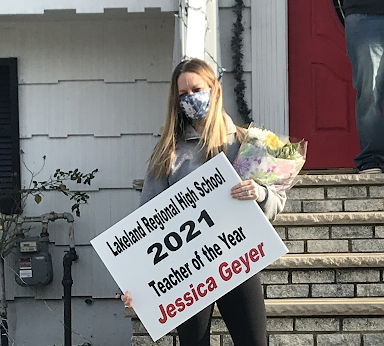 In 2002, a freshman with a dream of being an educator stepped into Lakeland Regional High School. After four years of being inspired by her teachers, she continued on the path of education after going to college for business.
Now, seven years after returning to LRHS to teach, Ms. Jessica Geyer is adding a new milestone to her educational journey: being the 2021 Teacher of the Year. 
Ms. Geyer, a teacher in the business department, is very involved in the Lakeland community, including being an advisor for Speak With a Peer (SWAP). However, her busy schedule doesn't phase her. "As a teacher, I feel like I never work a day in my life because I so deeply enjoy what I do." 
The LRHS community chooses their teacher of the year through administrative decisions. Ms. Geyer was nominated by Lakeland students and was chosen by the administration to follow math teacher Mr. Dan Thomas as 2020 Teacher of the Year. 
Due to the COVID-19 pandemic, Ms. Geyer's win was not able to be announced at the winter pep rally like it normally is. Instead, some of her colleagues surprised her in her front yard with a lawn sign and flowers (from a distance, of course). She described feeling shocked and humbled at hearing the news. 
"It will go down in my life as one of the most special memories. It took me all afternoon to process that this was real, as I work with so many incredible educators here at LRHS."
Being Teacher of the Year can mean many things to different teachers. For Ms. Geyer, it meant that her hard work in creating connections with her students was being recognized. "As educators, we do the best we can to inspire, to foster a love of learning, and the most special piece of that process is when our students inspire us in turn. Being a small part of their journey, seeing the spark in their interests come to life, and seeing the mark they're leaving on the world is unspeakable."
On behalf of everyone at The Ledger, congratulations to Ms. Geyer!
About the Writer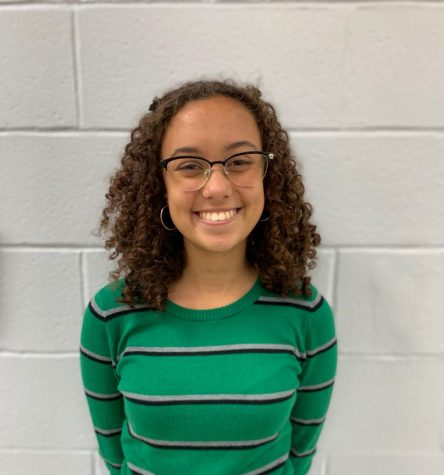 Emily Rose, Managing Editor
Emily Rose is a senior at LRHS and a staff writer for The Lancer Ledger. She is excited to be writing for the paper for a second year. Emily is very involved...