Jake Paul in Boxing Brings More Negatives than Positives
Jake Paul has brought many things to the sport of boxing in a very short period of time, but there are many reasons to believe that he has actually done much more harm than good.

While there is no denying that Paul has brought in a vast amount of pay-per-view buys and large sums of cash for both himself, his opponents. and a ton of attention from media outlets, there are many who see great problems with the effects it is having on the sport. The aforementioned attention has undoubtedly come in droves, but there are certainly just as many (likely more) critical voices as there are approving ones.

There has been no shortage of loud opinions weighing in on this, in particular UFC President Dana White has taken verbal jabs at Paul over the past few years. White explained to TMZ Sports, "I don't care about Jake Paul or anything that he is doing over there. It's not even my sport and quite frankly it doesn't even resemble the sport of boxing either."

In addition to White, there have been numerous personalities outside the sport of boxing but within the sports world that have not taken kindly to Paul's attempts to break into the sport. ESPN Senior Commentator and TV Personality Stephen A Smith explained on ESPN's First Take how both Paul and opponent Tommy Fury were both extremely underwhelming and even boring at times in their match back on February 26, 2023.

Top Rank Boxing

In addition to all the damage that has seemingly been done before that fight, there is now a bigger issue at hand as Paul actually lost the aforementioned fight to Fury. While this may seem to be minor on the surface, much of his entire appeal was the ability to suspend people's belief given that he was previously undefeated. Not only is this no longer the case, but Fury is actually the first true boxer he has fought as his previous opponents consisted of retired MMA fighters (Mixed Martial Arts) such as Ben Askren, Tyron Woodley (twice) and Anderson Silva. While these men were very good at their sport, none of them had very much skill in the boxing ring which led to great skepticism over Paul's true abilities in the ring. Now that he has been defeated by a true boxer, there really isn't much of an argument he can make to keep outside viewers interested for much longer.

To add insult to injury and potentially create an even larger issue for Paul, a supposed script happened to be leaked just hours before the fight took place. While this is far from being verified and simply circulated on social media, there were some points in the fight that actually matched some of the descriptions and the finish (split decision in favor of Fury). It is fairly unlikely that there will be anyone able to prove that this was truly the case, but at the very least it's a bad look for Paul and the sport of boxing and at worst it's a complete embarrassment for the sport and what appears to be confirmation that these fights have indeed been scripted entertainment.

There is no denying that Paul and every one of his opponents have generated a vast amount of money and publicity thus far. There is also no way around the fact that the man has marketed himself very well and has put himself into a position to succeed financially. That being said, there is also no sugar coating the fact that this entire experiment has been far more of a detriment to the sport of boxing than anything else. For one, it has made somewhat of a mockery of the sport to casual viewers. Seeing someone of such little experience get such high levels of attention at something he is quite frankly underwhelming at, puts down those who are actually legitimate professionals in the same field. Moving over to that idea, there are thousands of fighters out there who have the same skill level as Paul, and even more who are much better than him, who will now never get the same opportunities for fame due to this headline spot being held by someone undeserving. Above all else though, the idea of these fights being even slightly scripted completely tarnishes the validity of the sport. With this in consideration, outsiders will undoubtedly begin to question the idea of the sport being legitimate overall.
Leave a Comment
About the Contributor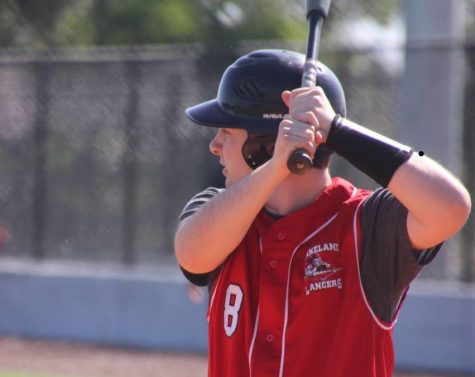 Christian Schroeder, Sports Editor
Christian is a senior at LRHS and is a first year writer for The Lancer Ledger. He is excited to write about sports and entertainment, among other things....