Opinion: Patrick Mahomes' Second NFL MVP is Inevitable
The NFL has many, many talented players that stand above 99.9% of the population, but there is one man within that layer who has once again stood above all the rest.
The 2022-23 NFL season was, simply put, one of the wildest we have seen in quite some time. There were many, many teams around the league who completely surprised people based on what was expected of them for better or for worse. For instance, despite winning the Super Bowl just 11 short months ago at their very own stadium in Los Angeles, the LA Rams now sit at home for the winter after a terribly disappointing 5-12 season. However, they certainly weren't alone as the Denver Broncos (5-11) and Las Vegas Raiders (6-12) both had brutal seasons despite both making huge, high spending moves this past offseason, like acquiring Super Bowl winning QB Russell Wilson and All-Pro Receiver Davante Adams respectively. To make matters even more strange, even all time greats like Aaron Rodgers and Tom Brady struggled mightily to get their teams going for much of the season.
Naturally, this led to many surprising teams on the other end of the spectrum to rise above the expectations. The Seattle Seahawks seemed to be among the league's bottom feeders this season, but quarterback Geno Smith (a man formerly deemed as a bust) put in a surprisingly strong effort to buoy a 9-8 season along with a shocking playoff berth. The New York Giants and Jacksonville Jaguars exceeded all expectations and both made playoff appearances despite being huge longshots to do so in the eyes of most. Despite all this turmoil and surprising peaks and valleys throughout the league, the one constant above all other things was once again Patrick Mahomes and the Kansas City Chiefs. "He simply has god-given gifts, they set him above the rest of the pack on a weekly basis." said commentator Tony Romo on a CBS Broadcast.
While there were many detractors and doubters in the preseason, Mahomes completely took the league by storm once again despite all the craziness around him. Nearly every team struggled to get going at some point in this season, but the Chiefs never once faltered. Patrick himself finished with one of his best individual efforts yet as he racked up 5,250 passing yards (both league and career high), 41 passing touchdowns (led the league), and a QB rating of 77.6 (league high by far). Naturally, this contributed to a strong showing of team success as the Chiefs finished with the most points in the league by far (496) as well as the best record in the conference at 14-3. Regardless of how tight things got this season for much of the league, Mahomes engineered a season that enabled the Chiefs to once again statistically stand above the rest. "He has been the every man for us, he's superman." said Travis Kelce on his podcast New Heights with Jason and Travis Kelce.
In sports, one of the most recurring themes throughout history that define a truly great player is how they respond to adversity. Mahomes and the Chiefs had their share of skeptics prior to this season as a big part of their core identity was no longer accessible coming into this year. In this past offseason, the Chiefs sent All-Pro wide receiver Tyreek Hill to the Miami Dolphins in exchange for a large bundle of future draft picks following a contract dispute. Given the expected toughness of their division (aforementioned Raiders and Broncos as well as the Los Angeles Chargers), the Chiefs were seen by many as a team who was a candidate to take a step back this season. Not only did they dominate their divisional competition (6-0 against them), but they put together a season that's certainly in the conversation for their best effort yet.
In addition to all of this success, as of January 30th, 2023, Mahomes and the Chiefs are once again headed back to the Super Bowl. In response to even more doubters (many gave the Chiefs criticism for struggling against the Cincinnati Bengals in the past, including last years' AFC Championship Game), All-Pro Teammate Travis Kelce explained following their 23-20 victory that it was indeed "Mahomes' House."
It's simply inevitable, the man is going to take the hardware home once again. Quarterback Jalen Hurts lifted the Philadelphia Eagles to new heights with a stellar season. Quarterback Josh Allen put together another great effort to lead the Bills to their fourth consecutive playoff appearance. Quarterback Geno Smith had one of the most surprising turn around seasons we have seen in quite some time, leading his Seahawks to a shocking playoff berth. Wide Receiver Justin Jefferson had one of the best non-QB seasons we have seen in league history. With all of that being said, there is simply no question over who the league's most valuable player will be. Patrick Mahomes is not just the center of the Kansas City Chiefs universe, he has firmly solidified himself as "the man" in the football universe as a whole. He will be the one to finish as the league's MVP for the second time in his young yet incredible five year career.
Leave a Comment
About the Contributor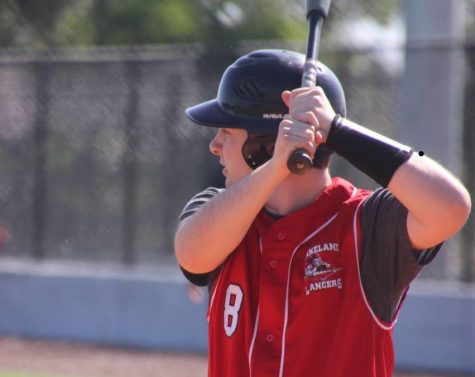 Christian Schroeder, Sports Editor
Christian is a senior at LRHS and is a first year writer for The Lancer Ledger. He is excited to write about sports and entertainment, among other things....