Review on Ashlyn By Ashe: A Must Hear Album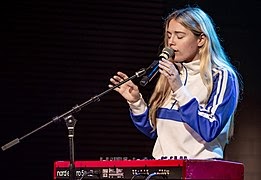 Known for her breakout song "Moral of the Story," indie-pop artist Ashe recently came out with her debut album Ashlyn on May 7, 2021, and spoiler alert: you will have it on repeat for the next year. 
Ashe describes Ashlyn as "deeply reflective" of her "experiences with fear and pain and turning those hard things into joy and independence." Ashe combines unique instrumentals and heartfelt storytelling to personalize each track and truly emphasize the mood being created. From navigating through the stages of her divorce, to touching upon more personal topics like her brother's unfortunate death, Ashlyn is an album of great vulnerability and emotion. 
The album opens up with "Till Forever Falls Apart," a collaboration between Ashe and singer-songwriter Finneas. The song expresses the feeling of loving someone unconditionally, and knowing this love will last until the end of time. Ashe and Finneas incorporate metaphors of natural disasters, like tsunamis and earthquakes, to further symbolize the idea that even if these obstacles take over, they are still not strong enough to break the love of the relationship. The metaphorical lyrics, moving instrumentals, and blend of Ashe and Finneas' vocals together create a great first impression for Ashlyn and leave listeners hooked for more.
After "Till Forever Falls Apart," Ashe switches it up, and brings in a more upbeat tune with "I'm Fine." The song is about having that one person in your life that is able to see you deeper than the rest of society, recognizing when you are not fine, despite if you say otherwise. The song is unique, mimicking a conversation in the chorus by repeating each line in the background. Alongside this, the lyrics express Ashe's raw feelings of not always feeling 100%, but are masked behind a pop-like tune to make the song appear cheerful. "I'm Fine" was the first single released after the announcement of Ashlyn and quickly became a fan favorite for a reason.
The next portion of the album includes various songs, reflecting on different feelings Ashe has had while navigating through her experiences in relationships. The track "Save Myself" reflects on Ashe's feelings of frustration for going through a relationship she would have preferred to have "saved herself" from. "Me Without You" takes on a different perspective, reflecting upon Ashe's finding of her own strength and true self as she escapes from a past psychologically abusive relationship. The song is emboldening with an upbeat tune to bring a wave of confidence over the listeners, rather than sympathy. The track "Not Mad Anymore" touches upon the acceptance stage of a breakup. In the song, Ashe expresses how she has moved on and is no longer as angry toward the relationship as she once was. The style of the song mimics this feeling of acceptance, with loud instrumentals that give off a freeing feeling. 
As mentioned earlier, Ashlyn is an album of great vulnerability. Ashe proves throughout the album that she is an authentic artist who writes about her genuine feelings and stories. This can be seen in her song "Ryne's Song" where she sings about her brother's unfortunate death. The song is written as if it were being sung to Ryne, and is very personal. Ashe reflects upon feelings of regret of being too late and taking time for granted throughout the song, and incorporates a real voicemail from her brother as the outro. By adding such a vulnerable song about a personal heartbreak she had undergone in her life, Ashe was able to allow listeners who have had similar experiences of loss feel less alone.
One of the greatest aspects of Ashlyn is how diverse all the tracks are. The album experiments with various different styles, making there a track for everyone. For example, "Serial Monogamist" uses various different styles and instrumentals to create a fun tune that will be stuck in your head for days. On the other hand, "Always" is an emotional ballad that highlights just how powerful and talented Ashe is as a vocalist. Checking out the rest of the album is highly recommended, and will definitely leave you satisfied. 
The album closes out with Ashe's "Moral of the Story (Remix)" featuring singer-songwriter Niall Horan. The duo released their collaboration in June of 2020 and it instantly became a fan favorite. The two's vocals blend together beautifully, and Horan's incorporation of his own lyrics (which made reference to his own song "Paper Houses" from his debut album Flicker) left listeners with goosebumps. The remix was a perfect closer, leaving listeners in awe with the talent of both Ashe and Niall, and with a familiar song that started it all for Ashe. 
Overall, Ashlyn has been one of the best albums released in 2021 so far. The album is original and personal, making it very distinctive and comforting to those who can relate to Ashe's vulnerability. No two tracks are the same, each song stands out on its own lyrically, vocally, and production wise. Both Ashe and this album have great potential for the future and it is exciting to see where her music journey will take her next. 
Leave a Comment
About the Contributor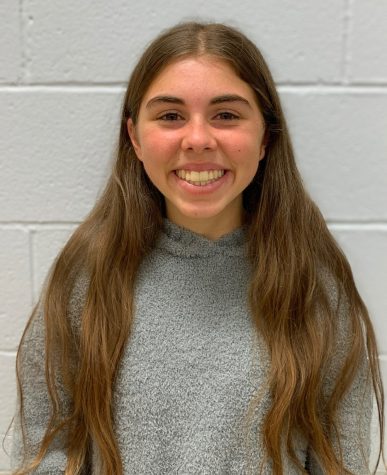 Morgan Uhlhorn, Editor-in-Chief
Morgan is a junior at Lakeland, and is beyond excited to be this year's Editor-in-Chief for The Lancer Ledger. This is her third year writing for the...