Review: Zack Snyder's Justice League, It's Finally Here
Zack Snyder's original cut of Justice League is finally here as it just hit HBO Max in March of 2021. The 'Snyder Cut' as its dubbed has been long awaited and anticipated for, as fans of the DC have been campaigning since Whedon's theatrical cut released this month in 2017.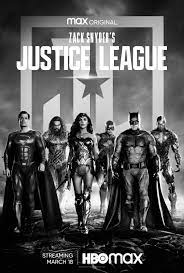 Whedon's 2017 version is unliked to say the least worldwide as it suffers from horrible CGI, a terrible plot with unnecessary subplots, and close to no character development/motives and/or backstory. In addition to the movie's flaws, some behind the scenes drama occurred as Whedon reportedly mistreated his actors. Ray Fisher in particular spoke out about the situation saying he was known to be an abusive and cruel director. Snyder and his wife Deborah were forced to step away from the project before production was done due to their daughter tragically passing away so they could mourn and recollect themselves, letting Whedon take over. Now after four years Snyder has done the impossible by managing to make his dream project once and for all as his Snyderverse comes to a close, after making it his swan song as the universe he and his wife have been working on for 11+ years ends. 
But now for the review, clocking in at about 4 hours and 2 minutes the Snyder Cut is jam packed with easter eggs, nods to what was to come, and just plain fanservice as it entices the audience with an entertaining plot that lets each character shine in their own way. For the casual movie goer, this movie was astonishing, some would say a masterpiece, and by no extent is it a terrible movie but it didn't meet all expectations. In the trailers they teased Darkseid, the Knightmare world, and Martian Manhunter which they kept up on, but didn't need to be included as the three things had their scenes. Each scene lasted under half an hour which was saddening but not unexpected as they were meant to set up a Justice league trilogy. As of now though this was the last movie in the DCEU by Zack Snyder, knowing this was kind of a let down, since they are teasing something that they will never be able follow up on. 
There were many scenes in this movie that didn't need to be included as they were unnecessary to the plot. For example, the extended village singing scene in the beginning of the movie was dramatic but not needed. Another scene would be when Martian Manhunter goes to see Lois Lane and tells her that she needs to get back in touch with the world as "the world needs you too Lois" but once Superman gets resurrected she does the exact thing. So what was the whole purpose other than fanservice, which is appreciated, but definitely not needed. Now there are scenes that were unnecessary but welcome like Cyborg's father sacrificing himself to give the location of the Motherbox to the League through his death. This was much better ending than the theatrical cut's as his death was a sign of a father who never really had spent time with his family due to his work to a man dying for the lives of his son and many others. 
This movie's character development was insane. They made Cyborg the heart of the story fully fleshing out his backstory, they gave Steppenwolf a motive which was to get in his nephew's good graces once again, they made Barry more than just the punchline, and they made Aquaman more memorable than just "My man!" This move also crushed all of Whedon's past failures, there is NO CGI MUSTACHE on Henry Cavill, and Steppenwolf doesn't look like the Walmart version of Voldemort. The cinematography is much better as it is now framed more vertically like a comic strip to fit characters who leap/fly better. It was disappointing to see the Knightmare World scene as not only was it too short but it also was just another dream or premonition of Bruce Wayne's. Darkseid is a legendary villain in DC as he is their version of Thanos (even though he came out first) who is known for his battles against the League and in the movie it was saddening how they teased him. Firstly he gets beat up easily by Earth's forces way back when which is of course due to him only being Uxas at the time, and when he is seen with Granny Goodness and DeSaad, there were theories flying around the internet about what would happen that never came to be.
The fact that this movie was a swan song instead of a revival justified its wrongdoings. Due to it being a finale as much as possible needs to be covered while teasing what's to come even though there is nothing else as of now to come. Since Robert Pattinson's Batman takes over Ben Affleck's and Joaquin Phoenix's Joker took over Leto's, the Snyderverse's actors/characters are being replaced more and more as time passes, again due to Snyder's stint on it ending. Now, though all these new movies and actors are taking place that doesn't mean that Snyder's can't make a comeback as DC has done something that Marvel hasn't which is explore the multiverse. DC has managed to have connected literally every single piece of DC media all in one multiverse letting different actors play different variants of the same character at the same time so never say never. 
It was still an amazing movie but again there were noticeable flaws that are pointed out in this review that diminished some expectations. Of course it would never be on the level Infinity War was per se but no matter one's opinions/personal beliefs it truly was a once in a lifetime movie. This movie did a great job of living up to people's expectations, hopes, and dreams which was the whole point of it at the end of the day. It truly is a vastly superior version then what we got four years ago. In the Snyder cut there's a good villain, good character development, better CGI, better plot, and better everything and though some things were unsatisfactory, it was Snyder's vision and passion project that he deserves to do his own way and that's something that anyone can respect and admire. The Lancer Ledger's official rating of the movie is a B- which number wise is an 82% as again it has noticeable flaws making it be less than a solid B but a B nonetheless as it is clearly better than a C or C+ tier movie.
About the Writer
Bryan Rios, Staff Writer
Bryan is a freshman at LRHS, and this is his first year writing for The Lancer Ledger. Bryan is very excited to get into the world of journalism and cannot...