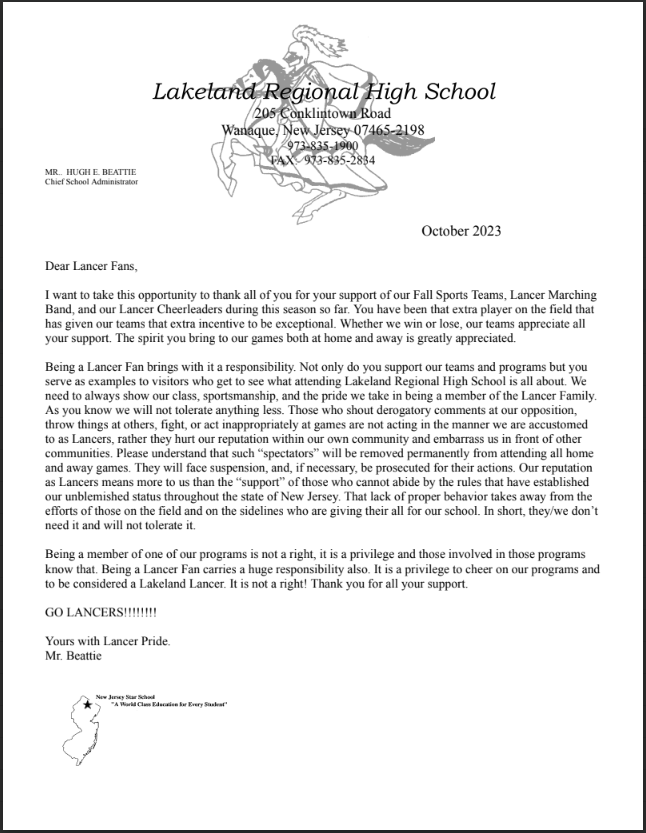 Lakeland Regional High School's Chief School Administrator, Mr. Hugh Beattie, posted an important letter to the Lakeland Regional High School's community via the Live Feed regarding an incident that transpired at the football last home football game of the regular season on Friday, October 13, 2023. 
The letter, which was posted on October 16, explained the sheer importance of respectful behaviour during any LRHS sports events. The letter mentioned that "not only do you support our teams and programs but you serve as examples to visitors we get to see what attending Lakeland Regional High School is all about." It went on to further explain that any derogatory comments, fighting, throwing things, or acting inappropriately to our opposition will not be tolerated. Readers should note that those who act in the ways above will be removed permanently from attending any home and away games. If the necessity arises, they may also be suspended or potentially prosecuted.
"
Being a member of one of our programs is not a right, it is a privilege and those involved in those programs know that.
— Mr. Beattie
The Lancer Ledger interviewed Mr. Beattie in response to the letter. He hopes to get students to reflect on some "less than stellar" behavior that took place at the football game in question. Adding, "We want students to understand that they have a responsibility to support our teams in a positive manner and behave in a manner that promotes pride in the quality of fans that we have here at Lakeland."
Mr. Beatie also explained how a student should deal with an incident of a similar nature if they were to come across it, saying,  "Students should contact a teacher or member of the administration and we will deal with it. No student should feel the need to endanger themselves or take away from their enjoyment of the game or event." 
When asked about what precautions were to be taken as a result of the event, Mr. Beattie replied, "There will be a few precautions employed for the future but the problem isn't with the majority of students. It is with a small minority of students that embarrass us all. We will deal with them individually." He continued, explaining that the precautions, as of now, will remain quiet so they can be properly executed in order to address concerns.