Recap On Kelsea Ballerini's New Album: 'Rolling Up the Welcome Mat'
Kelsea Ballerini has been pretty consistent with producing albums, but never one like Rolling Up the Welcome Mat. The album, which was released on February 14, 2023 and came with a connected short film, has been her most intimate work thus far.

Rolling Up the Welcome Mat is about Ballerini's divorce with ex-husband Morgan Evans. Country song writer Ballerini tells Broadway World, "I was writing by myself for most of the project, and it was nice to trust myself again."

Fans can tell that Ballerini put all her emotions into this album. She wrote it as a way to express herself, not just to impress her fans like she has done with past albums.

In this EP (extended play,) Ballerini wrote six songs. As established, they all have been about her journey of divorce with Evans. "Penthouse" is a slow song that builds up to be much more upbeat, but throughout it is lyrics that are absolutely gut wrenching. Sings Ballerini, "I guess wrong can look alright when you're playing home in a penthouse, baby." Ballerini truly expressed herself with these lyrics, showing that even something that isn't right feels right when the world around you is what you've always wanted.

Kelsea Ballerini

The song "Mountain With A View" is another that starts off slow and builds up to a speedier beat. The instrumental in this song is beautiful and just makes the song even more painful than it already is.

"Mountain" is definitely one of the more vulnerable songs on this album, and Ballerini truly expresses her pain, something made evident by the lyrics. One lyric, "I think that this is when it's over for me," correlates with ex Morgan Evans' song called "Over For You," where he sings, "How long has it been over for you?"

"Penthouse" and "Mountain With A View" are Ballerini's top singles on the EP, but a song that is not getting the recognition that it deserves is "Leave Me Again." More lowkey and even slower when compared to the rest of the album's songs, you can tell that it was written simply – just Ballerini and her guitar. It is such a raw, emotional song, and it shows the pain that she went through with losing herself in her relationship, and how she never wants that to happen again in the future.

Another underrated song, "Interlude," is upbeat and short. It's about how the public has discussed and disrespected her as if the divorce was all her fault just because she is a woman.

Rolling Up the Welcome Mat is by far the most vulnerable and raw that Ballerini has ever been in her music, and the public has very much enjoyed all of the raw emotions.
Leave a Comment
About the Contributor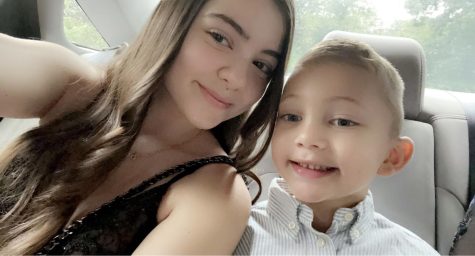 Erijona Zuta, Staff Writer
Erijona is a sophomore at Lakeland Regional High School. This is her first year writing for The Lancer Ledger, and she is very eager to start writing and...