We Asked, Seniors Answered: Interview with Class of 2023
Lakeland Regional High School's Class of 2023 has undoubtedly faced the most adversity in one's high school career. Between COVID-19 starting during the students freshman year and stopping at the end of their junior year, and the challenges of living through lockdown and virtual learning that came with it, one could say they haven't had the typical highschool experience.
Max Schroeder, Julia Kirby and Ace Byram are all seniors at Lakeland. The Lancer Ledger interviewed these students, asking them four questions regarding their own high school experience. They shared their heartwarming stories, gave suggestive feedback on how to improve LRHS, talked about their favorite teachers and so much more.
If you could change one rule or policy at Lakeland what would it be and why?
Since the reopening of Lakeland after COVID, many rules and policies have been reinforced. This has resulted in many students disagreeing with the reinforced policies, arguing that they simply aren't equitable. Schroeder, Kirby and Byram provided plenty of feedback to explain their viewpoints on these rules.
Schroeder had strong feelings about the ID requirements this year. He responded, "I feel that everyone having to wear an ID around their neck is unnecessary. I don't believe that it helps to make anyone safer in any way and instead ends up costing forgetful students points and detention. We rarely have to use ID's for anything besides the bathroom and the policy seems to be enforced only at random." Link ID article.
Agreeing with Schroeder, Byram stated, "I would change the way that points are given. The fact that they can be doubled for not showing up to a 'scheduled' detention is unnecessary. Most of the time you don't even know you got the points unless you're constantly checking your email or the portal, and many students don't know their logins."
On a similar note, speaking about disciplinary points, Kirby shared similar sentiments with Schroeder and Byram. Kirby replied, "I would definitely change the way lates are given because you shouldn't be given several points for being one minute late. There's a lot of people in the school, you could be in the building but not in class simply because of the people traffic alone. They could find a more effective way to handle late students."
What has been your favorite part of attending LRHS?
School is undoubtedly stressful, tiring and difficult. However, there's many aspects of school that make it worth it. In this case, it's the teachers. The seniors each credited teachers and expressed their gratitude to them for making school a better environment for learning.
Schroeder expressed, "My favorite part about Lakeland has got to be Mr. Truong. Hands down the best teacher, I've taken every class that he offers. He's an amazing teacher who has fun while teaching and makes learning interesting and fun."
Kirby agreed by asserting, "My favorite part about Lakeland is the teachers. Mrs. J [Joseph] has to be my favorite teacher. She keeps the classroom environment fun."
Bryam provided similar input stating,"My favorite part of going to Lakeland has to be the teachers. A vast amount of the teachers here are kind hearted and genuinely fun people to talk to. It makes the classes they teach so much more engaging and enjoyable."
What type of changes would you like to see at Lakeland?
Feedback is a critical part of change and the Class of 2023 will undoubtedly make a mark at Lakeland. The seniors were asked for their input regarding what changes they would like to see within our school.
Schroeder expressed his interest in more teacher feedback. He remarked, "I think more student to teacher feedback and changes made according to students feedback would be helpful. When students comment on a teacher's learning style and tell them what works and what doesn't, it helps to strengthen the learning process."
Bryam talked about how they would greatly appreciate more explanations from certain teachers. She voiced, "I would love to see a difference in how teachers go about presenting the material they teach. Some teachers just hand you a packet with no extra explanation. It's not a sufficient way to learn anything. It would also be nice to learn things that are fundamental like things we will need not just directly after highschool but things that will help us in the future as well."
How does it feel knowing it's your last year attending LRHS?
Lastly, the seniors were asked to reminisce and think back on their high school experience, and they enthusiastically expressed their feelings regarding it coming to a close.
Schroeder feels beyond exhilarated to be graduating. He commented stating, "I'm grateful for the friendships and relationships that were created at Lakeland. However, I'm also glad it's almost over and I'm excited for the future."
Kirby expresses her excitement about graduating, she responded, "I'm very excited to graduate and move onto something better."
Byram similarly remarked, "I am both relieved and scared that it's my last year. For the past 18 years of my life school is all I've known and the fact that it's rapidly coming to an end, cause I'm not going to college, is kinda terrifying but I'm also excited for the rest of my life to start."
Despite the adversities the Class of 2023 faced throughout high school, the seniors of Lakeland are appreciative for their experiences, education and the relationships they've formed during their years of high school, and shared some invaluable feedback that educators throughout the world would benefit from.
Leave a Comment
About the Contributor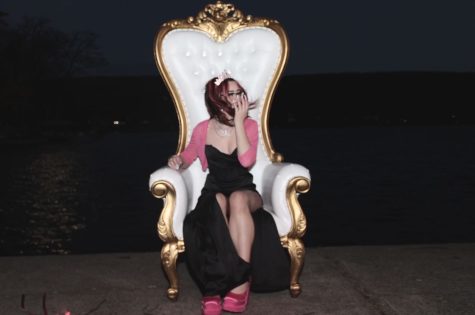 Adriell Schuster, Staff Writer
Adriell is a sophomore at Lakeland Regional High School, and this is her first year writing for The Lancer Ledger. She is beyond thrilled to begin writing...