Billie Eilish Makes Grammy History: Should It Have Been Her?
Winning a Grammy is a huge milestone in a musician's career and signifies that they have truly made it in the music industry. But when you're Billie Eilish, winning one Grammy seems effortless. Eilish took home five of the six Grammys she was nominated for at the 62nd Grammy Awards on Sunday, January 26, 2020. 
2019 was truly Billie Eilish's year. WIth the release of her album When We All Fall Asleep Where Do We Go? back in early 2019, Eilish's fame had grown immensely. Around the world, her music began to inspire and move people, and she became known as not only an artist, but an idol.
Fast forward to the 2020 Grammy Awards, in just one night, Eilish had become the second artist in Grammy history to win the "Big Four" awards category, and the youngest person at age 18 to ever win Album of the Year. 
The "Big Four" awards that Eilish took home were Song of the Year for "Bad Guy," Record of the Year for "Bad Guy," Best New Artist, and Album of the Year for When We All Fall Asleep When Do We Go?, along with an additional award of Best Pop Vocal Album. 
Eilish was truly grateful, yet shocked by the time her final award winnings were announced. At one point, Billie even mentioned that other artists, like Ariana Grande, deserved to win some of the awards she had received. By the end of the night, there were several people who had actually agreed with Billie on other artists winning some of her categories.
By the next day, social media apps such as TikTok, Instagram, Snapchat, and Youtube were filled with posts on why other artists deserved to win some categories that were awarded to Eilish. Despite the controversy, Eilish did in fact deserve the awards and here's why:
She is Record-Breaking
Since the release of her latest album, When We All Fall Asleep When Do We Go?, Eilish has set several records. According to Rolling Stone, within the week the album was released, Eilish already had 14 songs in the Top 100, which is "more than any other female artist ever," and by the spring the album exceeded over two billion streams. Not only did Eilish achieve this, but her song "Bad Guy" peaked at number one on the Billboard Charts for several weeks. 
She is a New, Big Name
There are several big names in the music industry that are known to have won Grammys: Beyonce, Taylor Swift, Lady Gaga, and more. Nowadays, it is normal to hear about celebrities like Ariana Grande, Ed Sheeran, or Adele to win Grammy awards as their names have been among the music industry for much time. For Eilish however, before the 2020 Grammys, her name was not one to be known to have won a Grammy award. It has not been incredibly long since her popularity and massive following has sparked. But for Eilish, her name is just coming up, and she has a lot to say. With that being said, as a new name in the industry, Eilish has an opportunity to set a reputation she wants for herself, followed along with using her music to make the impact she wants. 
She's an Inspiration
For some supporters, Eilish is not just an artist, but an inspiration to millions. There are so many Eilish fans who view her music as a source of motivation, or a way to persevere through hard times. Not only this, but the image Eilish has set for herself through her fashion choices has inspired many teenagers across the world to not care what people think about their appearance, and to be who they want to be. Followed by this, Eilish's songs are incredibly deep, and a majority of the time reflect upon her past experiences, some of those experiences being the darkest times in her life. There are so many teenagers across the world who have related to Eilish and no longer felt alone as they have both gone through similar problems. Eilish's music sends the message to her listeners that they can get through anything.
No matter your taste in music, Eilish has proved to she is a force to be reckoned with.  Between her music, lyrics, and style, it is undeniable that her awards are well-earned.
Leave a Comment
About the Contributor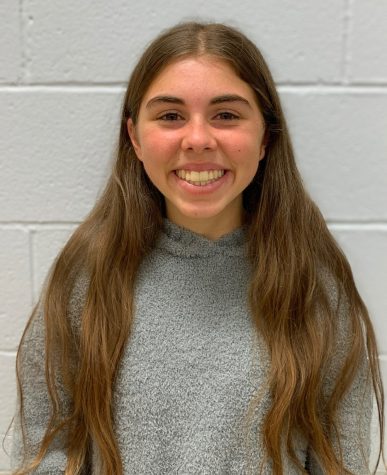 Morgan Uhlhorn, Editor-in-Chief
Morgan is a junior at Lakeland, and is beyond excited to be this year's Editor-in-Chief for The Lancer Ledger. This is her third year writing for the...