Super Bowl LIII Served Up an Incredibly Boring Halftime Show
Hang on for a minute...we're trying to find some more stories you might like.
Maroon 5 performed at the Super Bowl Halftime show this past Sunday on February 3, 2019. Without question, it was one of the most random, boring, uneventful, annoying halftime shows ever. From Adam Levine's terrible vocals to Big Boi and Sleepy Brown showing up, the show overall was a mess. Honestly, listening to Spongebob's "Sweet Victory" on repeat would have been better. But guess what? They didn't even play that!
Adam opened up the show with some fireworks and the band's song "Harder To Breathe". Yea, there were flames coming from the stage, but honestly Adam, the stage couldn't save your performance. The stage presence wasn't there and the vocals were not impressive. Even the guitar solo attempted by Adam was just lackluster.
Then comes the tease of "Sweet Victory". A little intro of Spongebob plays, and people think they are going to get the tribute to the shows creator, who recently died. But then you hear an auto tuned "Yea," and you know the show was about to get worse.
Instead of Spongebob, the audience got Travis Scott…a hot mess. The vocals were off, and the performance was muted. Not even the flames coming out of the stage could make it interesting or "lit". Then, Adam tries dancing Travis Scott and playing the guitar to match up with Sicko Mode's beat. Honestly, the mashup between two different genres of music didn't work. It was hard to look at. 
After that mess, Adam starts performing "Girls Like You," and his vocals were again off and shaky, making the show just annoying at that point. Then a random choir came in and tried to spice it up. I mean the Choir lady did…that, but the issue was it was just random and too little too late. The only thing that could've saved the show at this point was Cardi B coming on stage to perform her verse.
After the randomness, Adam started to perform "She Will Be Loved". Small, colorful drones started going into the sky and spell out words like "ONE" and "LOVE". But then the one good part about the whole performance got interrupted by Big Boi and Sleepy Brown performing, which I did not understand as they aren't relevant right now in the music industry, and I bet many people did not know what song they were rapping. On top of that, Big Boi was also wearing a fur coat, which is so wrong and disgusting on many levels (we need to protect animals, not wear them!)
The camera went back to Maroon 5 who started playing "Sugar," which was okay. But, that was short lived. "Moves Like Jagger" started playing, and Adam then decided to take off his shirt, which honestly was not necessary. He should've gotten the same amount of criticism Janet Jackson got after that incident that happened at the 2004 Super Bowl, which she didn't deserve as hers was an accidental wardrobe malfunction.
It was finally the end of the performance, with fireworks and flames coming out of the stage. Adam ended his performance with another guitar solo that was just as unimpressive as his previous one.
With how short halftime shows are, it was amazing how much I just wanted it to end.
With performers signing on late to the performance due to the NFL kneeling controversy and contract negotiations gone south, we knew this would be a disappointing halftime show. It was reported that many in the music industry, like Rihanna, declined to perform because they were supporting Colin Kaepernick who blames the NFL for ruining his career.
Honestly, bring back Lady Gaga! Next year's halftime show MUST BE BETTER!
About the Writer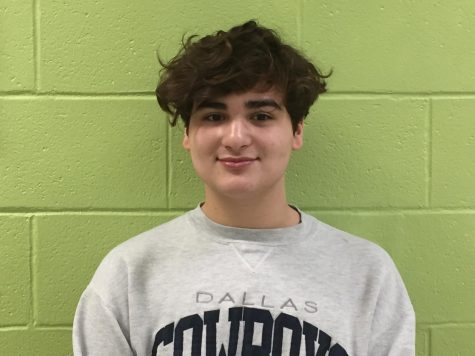 Sergei O'Hernandez, Staff Writer
Sergei is a sophomore at LRHS and staff writer for The Lancer Ledger. This is his first year writing for The Ledger. He is very vocal about his opinions...