LRHS Welcomes Future Lancers for Interactive Workshops
Lakeland Regional High School hosted an interactive career exploration workshop event for over 125 Wanaque Middle School students on May 24, 2023. The event introduced incoming Lancers to LRHS' University Programs at Lakeland (UPAL) program, which prepares students for specific fields including computer science, research, engineering, exercise science, graphic arts, and business.
This event was made possible through the interaction of many Lakeland UPAL students who served as mentors and guides, as well as the Wanaque and Lakeland staff who were advisors for each specific group.
The Lancer Ledger was able to shadow one of these interactive events:
Middle school students from Wanaque and Haskell School who were interested in pursuing a career in business were invited to participate in a Shark Tank event, where Lakeland students who are members of the Business UPAL program acted as students' mentors and event judges. During the event, student mentors worked with middle school students to pitch an innovative idea to 'sell' to the judges. This opportunity allows students to innovatively create and market their product to a "shark" who will judge their business for what it's worth and give them extensive feedback to assist in continual learning growth, just like on the ABC television show. The criteria they used to judge each pitch was to have a clear and concise business plan, strong value propositions, clear target markets, a sound business market and a clear call to action.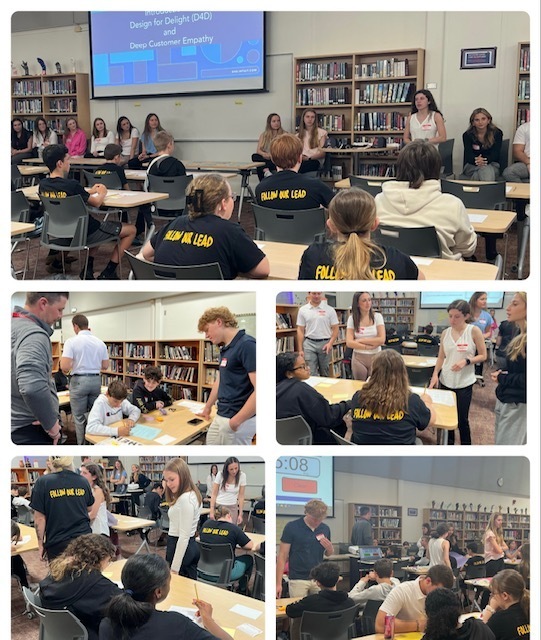 The event was presented by business teacher Ms. Jessica Geyer and the panel of judges which consisted of seniors Danielle Reid, Vladimir Bogatov, Nina Cotroneo, Charles Weintraub, Colette Hunter, Molly Murphy, as well as sophomores Olga Bogatova, Clarissa Kuhn, Emily Becker, Eva Whetstone and Ella DeBonis.
The universal goal of the Shark Tank event is to help assist students in developing an understanding of business and important financial management lessons in an authentic way. Students are taught about what's critical in business and what they need to know to ensure their future business is successful. According to Shark Tank eSchool, "This approach allows students to take more ownership of their learning experience, fostering an environment of creativity, innovation, and critical thinking."
Ms. Geyer shared how meaningful this opportunity was to the future Lancers. "Lakeland's Vision is that we are "Your Community School" and as a Community Member, and Alumni of Lakeland that's extremely important to me. I value my role in our school community, and honor the fact that these peer leaders are also future Lancers. We want to seize the opportunity to show them all of the incredible programs we offer at Lakeland! I was honored to be a small part of being able to share our students' hard work, knowledge, and all of [the] opportunities that are ahead for our future Lancers."
It's safe to say that this year's Shark Tank event was a resounding success, as there were a lot of amazing presentations and pitches and it was incredibly informative to potential future Lancers interested in business and beyond.
Overall, the UPAL showed our incoming freshmen the amazing programs LRHS has to offer and allowed upperclassmen to be leaders and mentors to future students.
Leave a Comment