Lakeland's Most Talented Create a Buzz at the Coffee House
A tradition for nearly a decade, the Lakeland Regional High School Coffee House has delivered yet another memorable show.  On Tuesday, May 16, 2023, artists in many mediums filled the Media Center with talent.  A pervading theme of hope and positivity tied together the performances. 
The show kicked off with a performance by senior Emma vanHeerden who dazzled the crowd with a sultry performance of "Why Don't You Do Right" by Amy Irving.  vanHeerden's breathy rendition rivaled that of Jessica Rabbit in the 1988 classic Who Framed Roger Rabbit? and got Lancers revved up for the second act.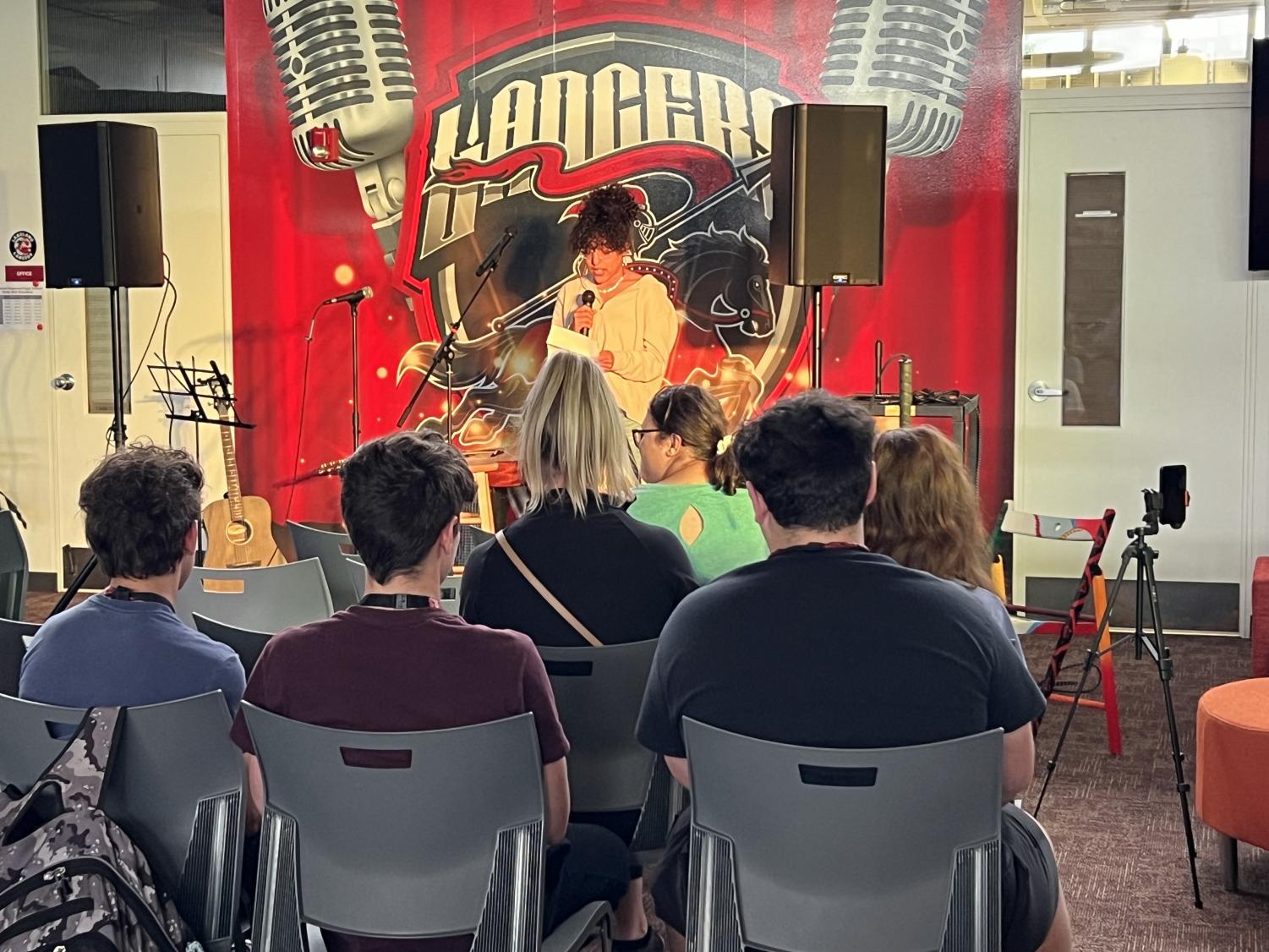 Fellow senior Skye Fabre, who is headed for Montclair State University in the fall, hit the stage next with an original poem called "To Feel or Not to Feel," which paralleled Hamlet's  famous soliloquy.  Fabre concluded their poem with an important sentiment: "Your past is not a death sentence," they told the audience. 
Next, Mr. Matthew Testa, band director and rhythm extraordinaire, introduced his song "Optimism" by telling the crowd the song helped him through tough times.  Mr. Testa used a looper pedal, an electronic device that records a musical measure and plays it back on loop.  Mr. Testa made a series of percussive sounds that served as a background to the melody he sang and played on guitar.
Junior Shannon Lall encouraged the audience to vibe along to her up-beat song, "Viernes" with which she effortlessly entertained the crowd. Confident, smiling, and laid-back, Lall made performing look easy.  
Junior and The Lancer Ledger's own Stephan Schwab was not part of the show, but was a good sport in enduring Superintendent of Instruction and Curriculum Mr. Micheal Novak's lame trivia, humoring him by listing the first seven presidents of the United States before telling him enough was enough, and to get on with the show.  
The crowd was then delighted by Mr. Mike Kelly, co-organizer of the Coffee House who sang "Blinding Lights" by The Weeknd as well as an original song called "Follow You," a pop song with a message of enduring love.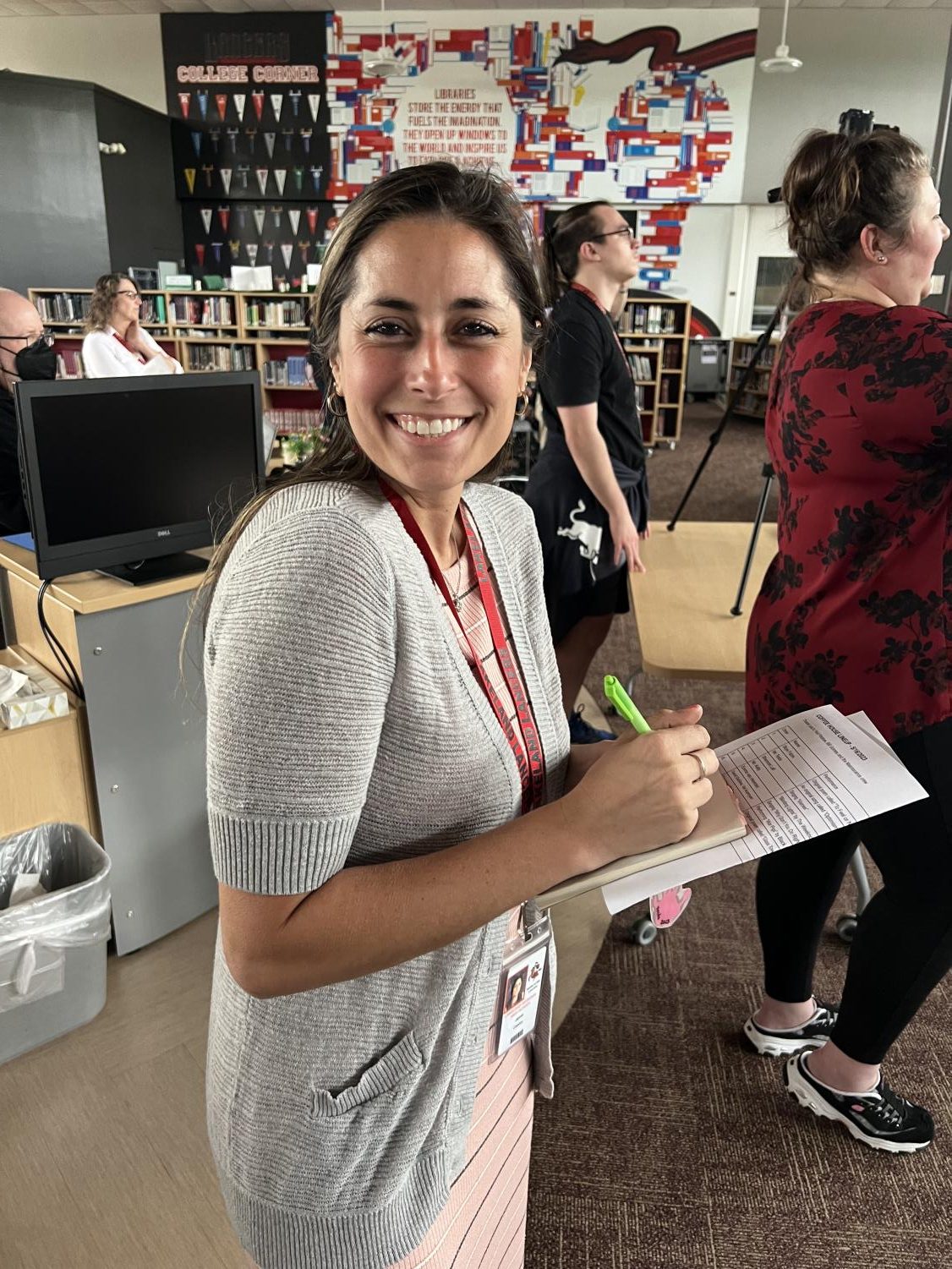 Many LRHS teachers were there to support students including special services teacher Ms. Kim Allegrini, science teacher Mr. Christopher McMahon, gym teacher Ms. Nicole DeCarlo, and history teacher Mr. Christopher Chouljian.  As lovers of the arts, there was, of course, a strong presence from the English department:  Mr. Donn Reeves, Ms. Megan Curry, Ms. Kali Spoelstra, and Ms. Ann Pagano were among the many who were there to indulge in the unique performances.
To introduce junior David DaSilva and Mr. Val Acemyan, slightly abrasive but well-meaning emcee Mr. Novak said, "If this is not on brand for two guys with ponytails, I don't know what is."  Mr. Ace let down his locks and rocked out to Black Sabbath's "War Pigs" as DaSilva played along shredding on his teal electric guitar, finding each chord with precision and looking cool as hell doing it.  
Senior Courtney Molloy gave a passionate performance of her original poem "Glass Towers," her emotions bubbling on the surface.  The poem took a delightfully dark and surprising turn at the end.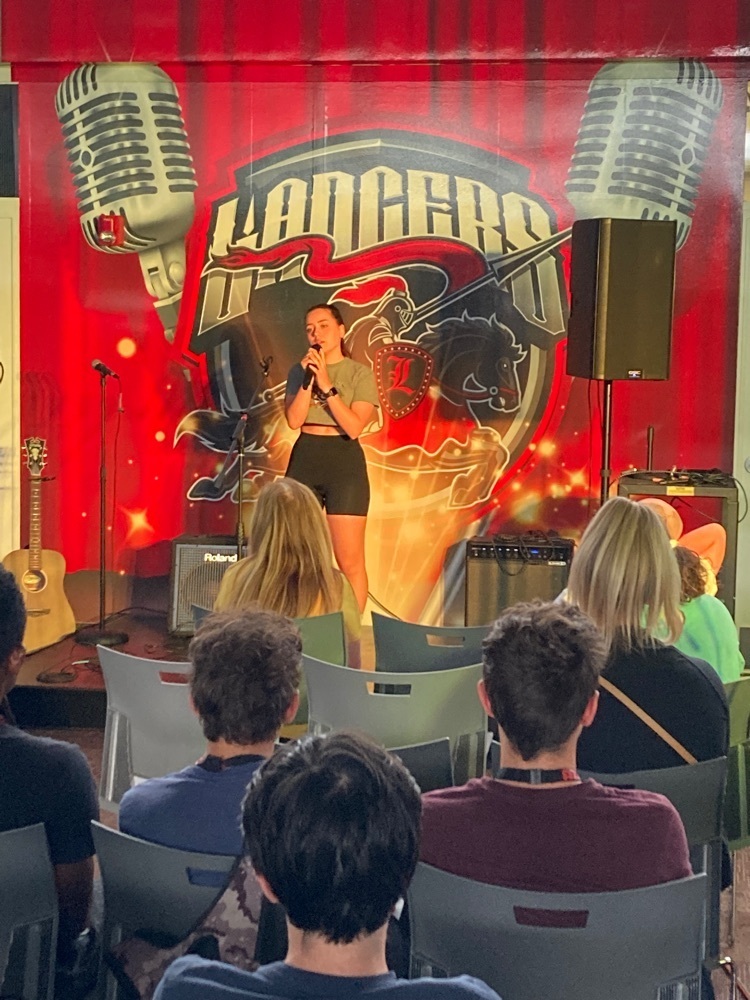 Two late additions to the lineup included seniors Nicole Racana and Jordan Spann who also shined earlier this year in Lakeland's All School Production.  Racana sang Rihanna's 2012 hit "Stay" while Spann crooned "Silver Springs" by Fleetwood Mac.  Both girls' voices were smooth like honey, eliciting enthusiastic applause. 
The penultimate performance featured freshman Keyanna Studwell with on stage support from sophomore Jasmin Mendes.  Studwell approached the stage and recited an original poem "Overthinking Hypocrite."  The performance was punctuated with swells of emotion and concluded with a strong message of self-empowerment. 
Affectionately known as the Mariano Rivera of the Coffee House, Mr. Eric White closed the show with poetry.  Mr. White reminded the audience that sometimes there isn't much to be said about a poem; the point is simply to feel something. Moved they were by his recitation of Sylvia Plath's "Mirror" and John Keat's "Sonnet to Sleep."
The last Coffee House of the 2022-2023 school year proved to be its best to date. This event was a springtime treat for all those in attendance who had the pleasure of being entertained by our finest students resonating in Lancer harmony.
Leave a Comment