Holiday Trader Joe's Products Worth Your Money This Season
Picture this: It is a snowy December night and Christmas is in less than 10 days. To get in the spirit, you decided to get all nice and cozy and enjoy a classic Christmas movie. You bundle up in blankets on the couch, have the fireplace going and the lights low, and you choose the duo Home Alone films to spend your evening enjoying. But then it hits you: you are missing the perfect holiday themed snack to munch on for the next few hours. A wave of panic rushes over you as you start to question what snacks are both holiday themed and delicious? Well, fear not, because Trader Joe's yet again saves the day!
Here are a list of the best Trader Joe's holiday products to try this season so you never have to worry about your snack lacking during your holiday movie marathons:
Minty Mallows
Feel like you are biting into a refreshing, minty cloud with Trader Joe's Minty Mallows! These peppermint flavored marshmallows are drenched in a smooth, rich, dark chocolate coating. The mint and chocolate flavor duo is already enough to make your tastebuds happy, but then add on the fluffy texture of the soft pillow of a marshmallow- now your tastebuds are going to heaven! Each box contains around 12 marshmallows, enough for you to share with your friends and enjoy with a nice cup of hot cocoa.
Cookie Mug Hangers
We didn't think it could get much better than sipping some hot tea under some blankets on a snowy day, dunking a gingerbread cookie into your beverage – until Trader Joe's came out with their Cookie Mug Hangers. These gingerbread-shaped, cinnamon-spiced flavored cookies hang around your mug, awaiting for you to dunk them and enjoy their satisfying crunch. And who does not feel a rush of joy surge through their body when they see an adorable cookie smiling back at them as they sip their warm, winter drink?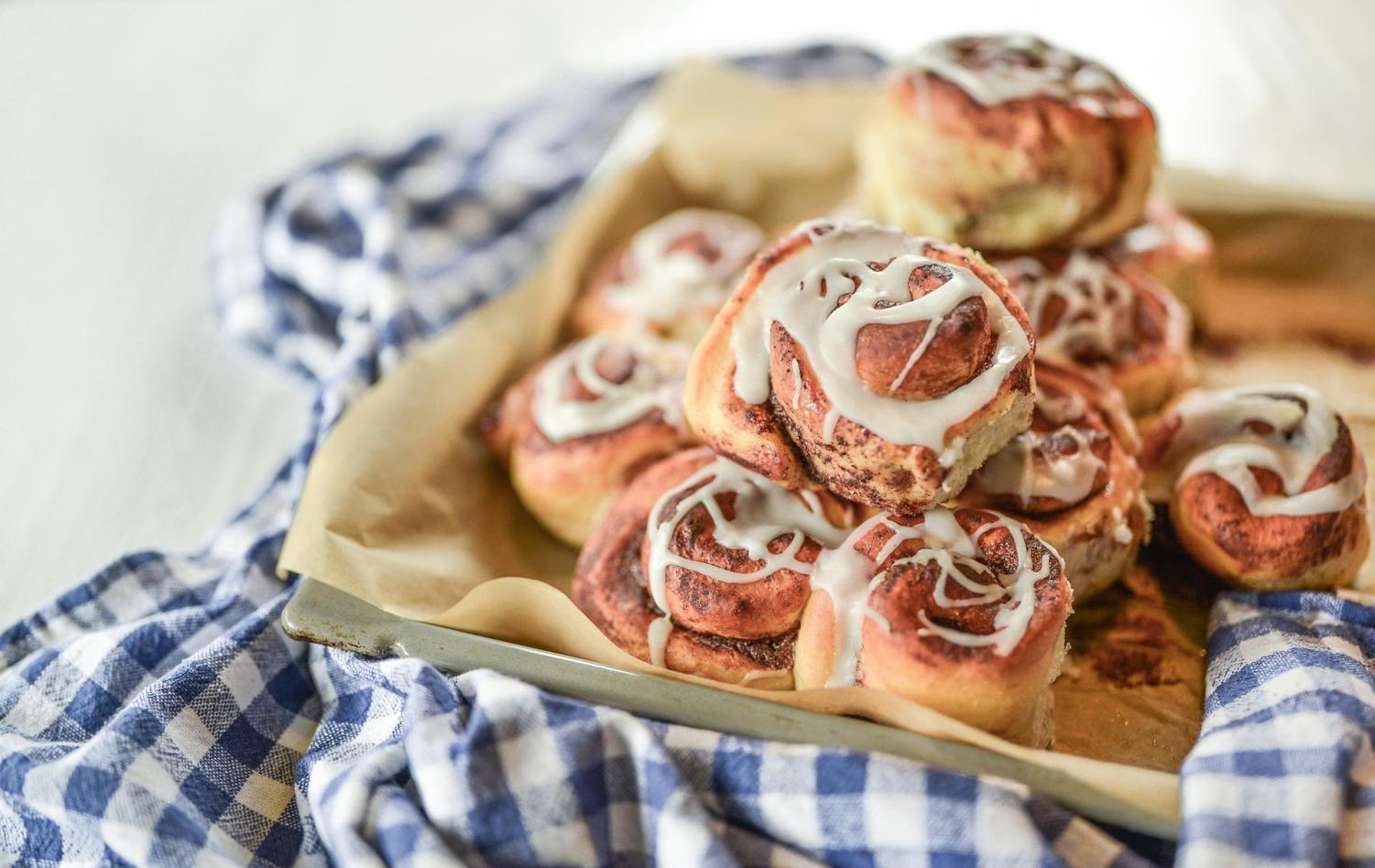 Jumbo Cinnamon Rolls
If you need a breakfast for Christmas morning, these Jumbo Cinnamon Rolls are your lifesaver. The fluffy, flaky cinnamon roll crust blends perfectly with the luscious cinnamon-sugar swirls and the sweet, vanilla glaze is literally the icing on top of the cake. The aroma of smells, from cinnamon to freshly baked pastries, these rolls create while baking are enough alone to have you buying multiple containers at once.
Everything But The Leftovers Seasoning
Are you a Thanksgiving supremacist? Or do you still want to enjoy the comforting taste of a home-cooked Thanksgiving meal after November? If you answered yes to either of these questions, then Trader Joe's has the solution for you. The Everything But The Leftovers Seasoning blend captures the essence of a Thanksgiving meal, from the homemade stuffing to the hearty gravy. The blend includes a mixture of herbs and spices such as dried celery seed, dried thyme, dried parsley, dehydrated onion, salt, black pepper, turmeric, and a combination of baker's and torula yeast to create a savory, umami flavor. The seasoning is phenomenal on roasted vegetables or even popcorn, and it also happens to be vegan, so you are able to get the taste of Thanksgiving dinner without actually eating the turkey! After all, the holiday season starts with Thanksgiving, so have no guilt in grabbing this seasoning off the shelves in the month of December.
Candy Cane Joe-Joe's
If you are Trader Joe's enthusiast, then you have probably heard about Joe-Joe's, which are basically the Trader Joe's version of Oreos. To keep things interesting, seasonal flavors come to dominate the stores throughout the year. And for the winter holiday season, Candy Cane Joe-Joe's are Mr. Joe's flavor of choice. A sweet, vanilla cream with candy cane pieces mixed in is layered between two crisp, rich, chocolate wafer cookies. These cookies do not disappoint, and give Oreos a true run for their money.
Trader Joe's and the Astounding Multi-Flavor Joe-Joe's
If there is one thing Trader Joe's excels in, it's going above and beyond. Because Candy Cane Joe-Joe's were simply not enough, Trader Joe's has a variety Joe-Joe's pack with quite the name: Trader Joe's and the Astounding Multi Flavor Joe-Joe's. There are four varieties of Joe-Joe's in each hexagonal prism-shaped box: Peanut Butter Joe-Joe's coated in milk chocolate with a dark chocolate drizzle, Vanilla Joe-Joe's with a ginger infused white chocolate and ginger cookie sprinkles on top, Double Chocolate Joe-Joe's in dark chocolate with a milk chocolate drizzle, and Candy Cane Joe-Joe's in dark chocolate topped with peppermint sprinkles. This box has something for every cookie enthusiast, and is bound to get you in the holiday spirit.
Jingle Jangle
Jingle Jangle is basically the Elf of Christmas at Trader Joe's – it is a classic! The sweet snack mix consists of milk and dark chocolate covered pretzels with white chocolate drizzles, dark chocolate covered caramel popcorn, dark chocolate covered Joe-Joe's, red candy coated milk chocolate gems, and both milk and dark chocolate peanut butter cups. The assortment of chocolate goodies is the perfect cozying-up-by-the-fire-watching-a-movie snack for those with a sweet tooth. The snack mix comes in a cute tin, decorated with Christmas lights and the fonts written in red, white, and green colors, making it a great holiday gift for your chocolate-loving friends.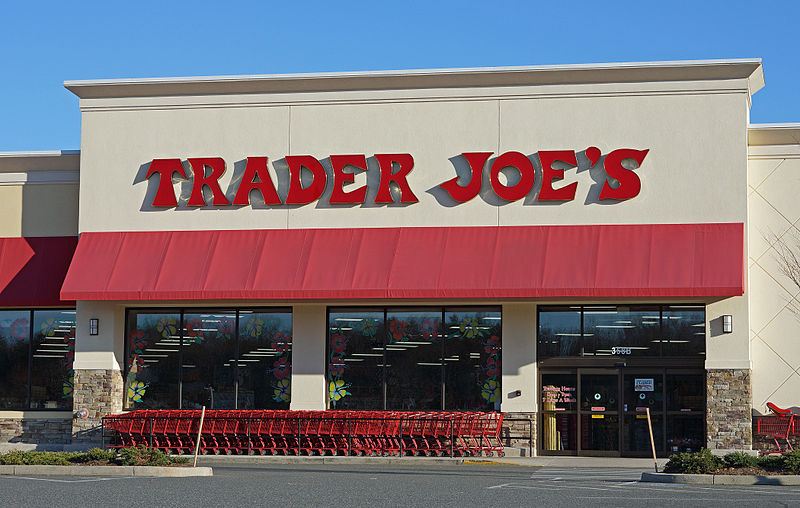 Mini Dark Chocolate Mint Stars
Perfect for when you need that something sweet, these miniature star cookies are bound to leave you satisfied. The chocolate shortbread cookies are infused with a cool mint flavor, before being doused in dark chocolate and topped with white nonpareils. The cookies have the perfect crisp crunch and the most refreshing mint chocolate flavor. Add a handful of these cookies to your movie-night snack mix or plate them up to serve as a dessert option at a holiday celebration, and your guests will not be disappointed.
Step Up To The Snack Bar Mix
Don't have a sweet tooth? Feel like you're missing out by not enjoying the sweet mix of Jingle Jangle? Well Trader Joe's could never leave you hanging – they have come out with two savory snack mixes for those who prefer salt and spice of sugar and spice. The Step Up To The Snack Bar Mix consists of honey mustard pretzel pieces, honey roasted peanuts, corn chips with flax seeds, cheddar rocket crackers (the Trader Joe's version of Goldfish), honey roasted sesame sticks, and chili lemon corn sticks. The variety of snacks creates a balance of many savory flavors, and this mix is the perfect Christmas celebration appetizer to munch on.
Are you someone who prefers spicy over savory? Trader Joe's takes this snack mix to a whole other level with their Stepping It Up Spicy Snack Bar Mix. Packed with a blend of sweet jalapeno pretzel sticks, pasilla chile and sesame chips, spicy cheese corn sticks, spicy chile almonds, and chile lemon corn nuggets, this snack mix has the perfect kick of heat: enough to taste but not too much that the spice is overpowering.
Hold the Cone! Mini Peppermint Ice Cream Cones
Trader Joe's is notorious for getting their customers absolutely addicted to their mini ice cream cones. Rotating with seasonal flavors, the winter mini ice cream cones that have captured loyal Trader Joe's fans' hearts is the peppermint flavor. According to Trader Joe's, the Hold the Cone! Mini Peppermint Ice Cream Cones start with a cocoa flavored waffle cone, filled with a chocolate coating on the bottom to prevent any ice cream leakage. The cones are then topped with a creamy peppermint ice cream before being lusciously coated in a sweet, rich chocolate coating. The chocolate, the mint, the sweetness – these cones may be mini but they are powerful with flavor.
Now that you have a list of holiday goodies to enjoy this season, head to your local Trader Joe's and go stock up! Embrace the comforting flavors that will help you get into the holiday spirit, and never fear that you'll be empty-handed while snacking as you watch your favorite Christmas movies.
Leave a Comment
About the Contributor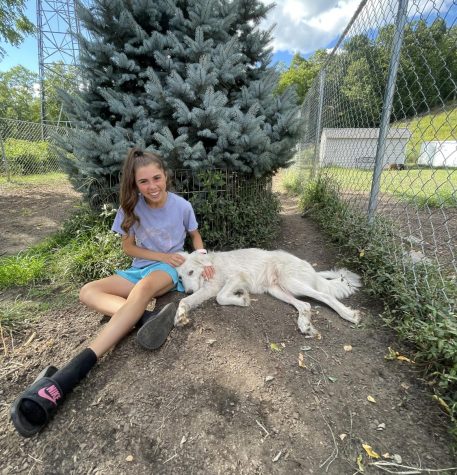 Morgan Uhlhorn, Editor-in-Chief
Morgan is a senior at Lakeland, and is beyond excited to be this year's Editor-in-Chief for The Lancer Ledger. This is her fourth year writing for the...