LRHS Welcomes Back Coffee House with Live Performances
Lakeland Regional High School was excited to welcome back an in-person Coffee House. The event, which took place on Wednesday, May 25, showcased Lakeland's talented staff and students in a fun, chill atmosphere that provided great music, poetry, and free coffee. 
The event, which originated in 2018 and is still run by science teacher Mr. Michael Kelly and English teacher Mr. Eric White, took place in the renovated Media Center in an area designed for student showcases and presentations. As tradition goes, the Coffee House was hosted by Mr. Michael Novak, assistant superintendent, who welcomed the crowd and performers back and thanked everyone for their support. 
The Coffee House opened with senior David Gordon performing "Sunflower" by Post Malone and Swae Lee, a song that has really helped him come out of comfort zone. Gordon also performed later in the show with sophomore David DaSilva, playing a crowd favorite, the classic "Everybody Wants to Rule the World" by Tears for Fears. The multi-talented DaSilva also went solo, rocking out to "Bark at the Moon" by Ozzy Osbourne on his guitar.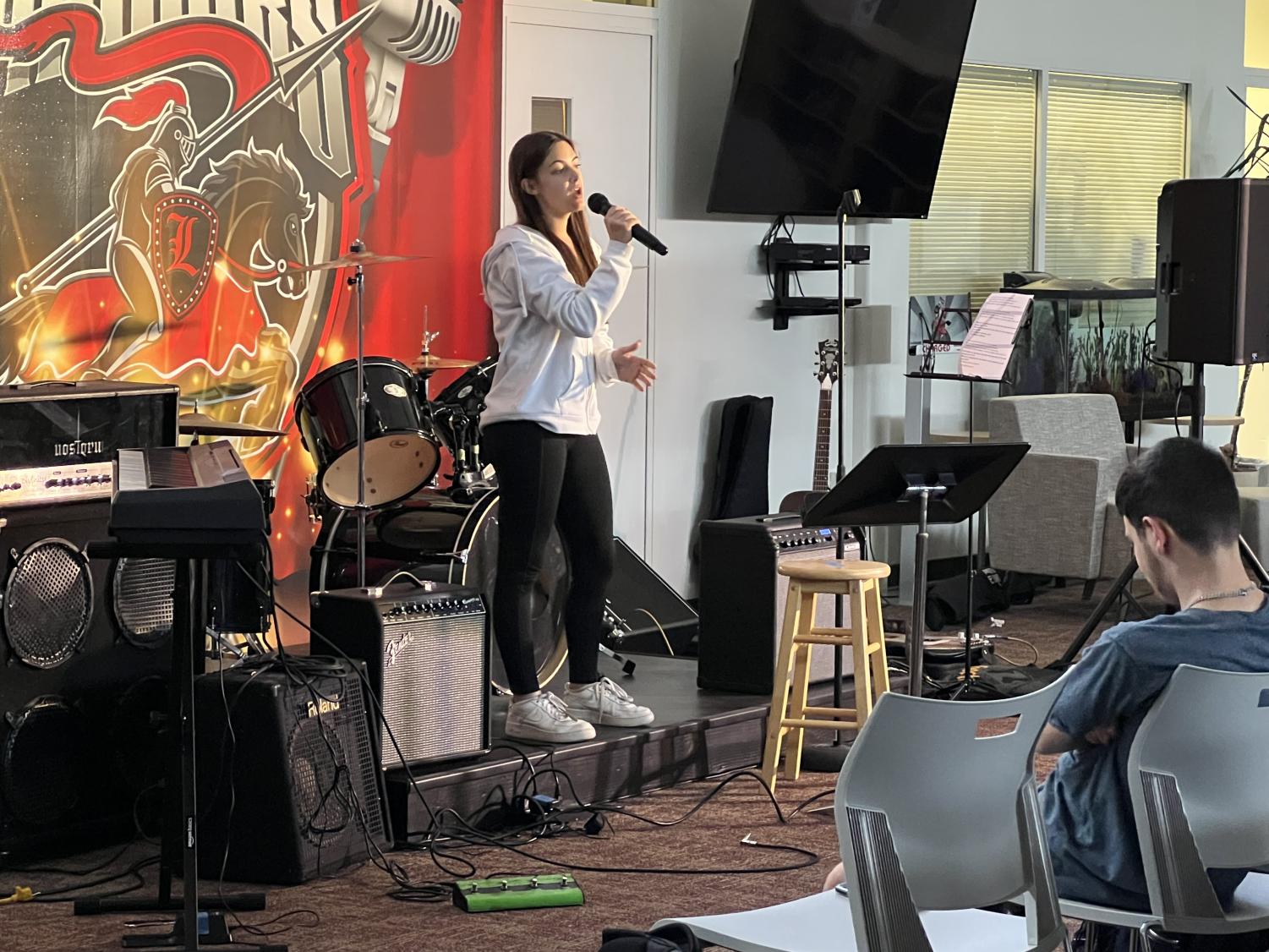 DaSilva wasn't the only one showing off instrumental talents; the band Indigo, consisting of members Blake Law, Jack Giordano, and Tyler Michalski, all juniors, also brought some rock-n-roll to the Media Center with Nirvana's "Smells Like Teen Spirit" that had teachers and students singing along. Seniors Josh Bandstra, Magnus Chenel, and Greg Donatien ended the show with the last rock numbers of the event, "Song For a Spaceman" by The Witch and "Disorder" by Joy Division. 
The line up also included some amazing ballads. Freshman Brianna Rodriguez was welcomed on stage with cheers from her friends and sang a beautiful rendition of "She Used to Be Mine" by Sara Bareilles. Last minute addition, senior Amanda Todd, took the stage as well, sharing a flawless version on "Nothing Breaks Like a Heart" by Mark Ronson and Miley Cyrus, with friends and fellow seniors recording her and cheering her on. 
The performances didn't end with just students. Mr. Kelly took the stage to sing and play "Breakeven" by The Script. Mr. White got in on the action by performing an excerpt from the poem "Endymion" by John Keats to remind everyone that poetry can take the stage too and that "there is still beauty in such an ugly world." 
Throughout the COVID pandemic, the Coffee House was still held, but it was pre-recorded by the talent and compiled into a YouTube video.
The first in-person Coffee House in almost two years was a huge success, and everyone is looking forward to once again watching it grow as the years go on.
Leave a Comment