Time for a Change at LRHS: Change of Teacher Day 2022
National Honor Society (NHS) continues in its tradition of sponsoring the Change of Teacher Day at Lakeland Regional High School on Thursday, April 14, 2022. This event is held for teachers and seniors to spend quality time with one another and to give seniors an opportunity to learn about what goes on in a teachers day.
This annual event sponsored by NHS consists of a student shadowing a chosen teacher and traditionally wearing matching outfits. The student experiences a day in the teacher's shoes. This one of a kind encounter has been described as a fun, and informative experience.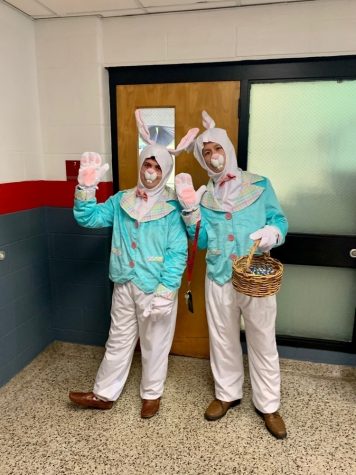 When talking with a participant and math teacher at LRHS Mr. Andrew Truong, The Ledger gained insight on what it is like being a part of this special event. Mr. Truong happened to be serving his time in the bunny suit for the duration of the day, as he was selected to wear it in a student council fundraiser. When his change of teacher, senior Jack (John) Burke, was also presented with a bunny suit, it ended up being one of Mr. Truong's favorite memories of the day. 
He described the experience as lots of fun. His "Change of Teacher " was Jack (John) Burke, who has a long history with Mr. Truong. "I had Jack in AP Computer Science sophomore year and AP Computer Science Principles his junior year. Jack had the chance to apply skills he learned to teach the AP class this year. " The students often pick a teacher who they admire and look up to, making the experience even more beneficial and memorable. Having Jack teach his classes was Mr. Truong's favorite aspect. 
Senior Michelle Krytowski greatly enjoyed the day. She shared with The Ledger just how fun the day was. Krytowski found it very enjoyable to see everything from the teacher's perspective.
Another teacher who took part in this experience, history teacher Mr. Joseph Placenti, aced the C.O.T day twinning tradition with senior Brenna Lamb. Their matching outfits went as far as consisting of the same tie and position of tie clip. 
Mr. Placenti shared, "This is one of my favorite events held during the school year. It is a pleasure to work with a senior and have them attempt the regular duties of the teacher." The day consisted of Lamb doing Mr. Placenti's routine. His favorite part was "spending the school day with my senior, matching outfits, and working with them during instructional periods as they attempted to perform regular teacher duties."
Overall, the day was a huge success and greatly enjoyed by many. Lakeland hopes to continue in this tradition for many years to come. 
Leave a Comment
About the Contributor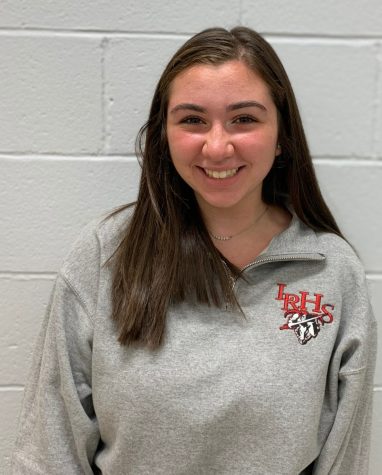 Emily Becker, Staff Writer
Emily is a freshman at LRHS and staff writer for The Lancer Ledger. While this is Emily's first year in journalism, she hopes to produce some informative...