What To Look For At The Lancer Locker 
This past year has been full of uncertainty and finding our place once again. As we move into this new year we all are looking forward to new beginnings. Even Lakeland is making changes for the new year including the new school store, The Lancer Locker. The Lancer Locker will be the one stop shop for all Lancer pride gear along with some other treats.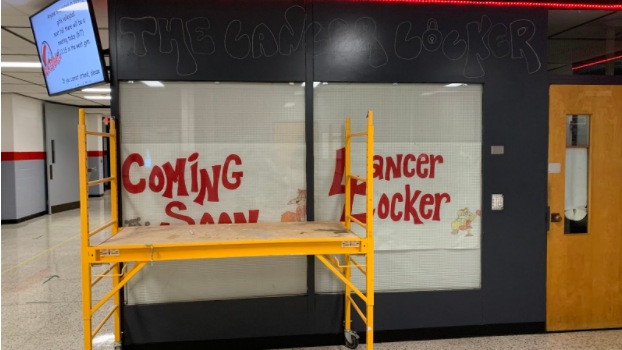 The Ledger spoke with Ms. Jessica Geyer and Ms. Tammy Ozdimer about what's coming next year. 
Ms. Ozdimer said that a school store was a part of Lakeland culture in the past, and agreed with the administration about bringing it back. One of the reasons Ms. Geyer said that the resurgence of the store was that there isn't really a "centralized place" for all of the sports and activities merchandise that Lakeland offers. The common practice is that each individual activity holds a sale for their specific items, and if that window is missed then the merchandise can't be purchased. Having everything in one place gives students the opportunity to get in on spreading spirit.
The faculty and staff at Lakeland decided that a school store might be what the students need to increase morale. In years past, and especially after the pandemic, school spirit has been on the decline. The Lancer Locker is being created in hopes of making students excited about school and sharing spirit around the community. 
The Lancer Locker will have its own website to help with advertising the store and placing orders. There will be a Google order form to purchase items. The store and website will be maintained by the finance and marketing classes at LRHS.
While the price range for store items has yet to be arranged, Ms. Geyer reassured The Ledger that students will be able to afford whatever they plan on purchasing. There might even be an option to use Venmo.
The question of who will be working in the store is ultimately still to be determined; however, it is planned to be a learning experience for business, DECA, and STEP students. Working in the store will help these students with their career readiness skills that compliment their studies, and further their understanding of business activities and processes. 
The school store is to sell various essentials like food and beverages, clothing (school apparel), and school supplies. Some examples of what is being sold are water bottles, stickers, socks, crew necks, and merchandise from local colleges. The store is said to be affordable for all students with a wide price range for their products. The food sold by the store can be eaten before/after school only as they will have short and simple snacks at convenient and low prices. It's possible that the store could one day rival local businesses like CVS Pharmacy, Quick Chek, and 7-Eleven as due to it being part of the school where students go every day it's much simpler to shop there rather than the bigger brands. 
The grand opening is set to take place on November 1, 2021, so make sure to check it out! 
Leave a Comment