Lakeland Fundraisers for Local Shelter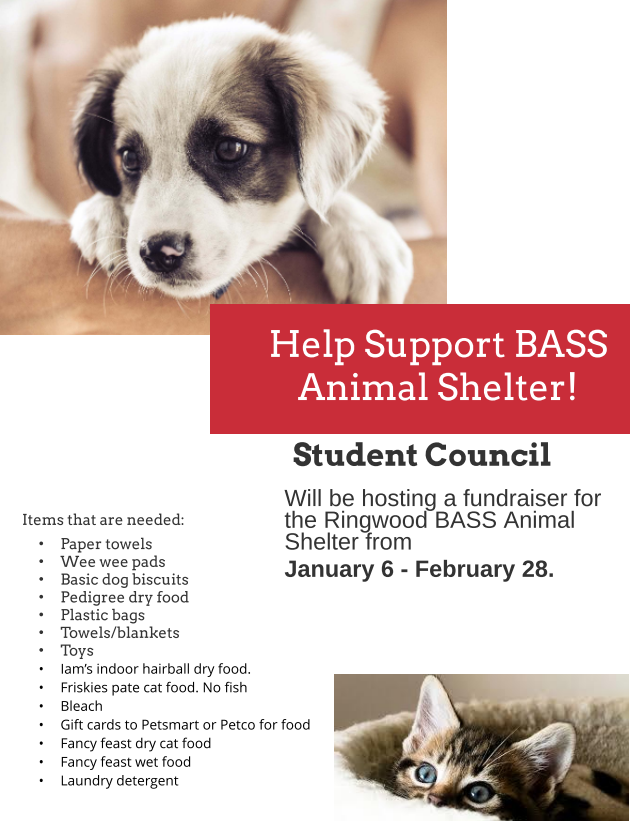 Lakeland Regional High School's Student Council is in its final days of collecting supplies and donations to support the BASS Animal Shelter in Ringwood. Fundraising ends on February 28, 2020. The event, which has been ongoing since January 16, has raised support and awareness for the shelter.
According to Ms. Jenni Harmon, Student Council co-adviser, "It is so important for students to donate because the shelter is a non-profit organization run by dedicated volunteers." The club is collecting any sort of donation. "We have a few towels and some dog treats, but we really need more of anything," Ms. Harmon states. 
BASS animal shelter takes in abandoned, stray, and owner surrendered pets. Their service is solely run on volunteers who are committed to helping these animals. Part of their service is to also ensure that they match the pets with compatible homes.
Morgan Uhlorn, a freshmen at LRHS who volunteers much of her time at the shelter, says, "Different types of shelters require different supplies. At BASS, I volunteer at the shelter with the dogs. Food, crates, leashes, paper towels, and cleaning supplies are the most important I would say!"
BASS is always looking for volunteers too. Uhlhorn talked about her experiences and the best parts of her volunteer work. She said, "One of the best things about the shelter is making all of the animals feel safe, comforted, loved, and happy. We get to watch the dogs blossom into their true characters, unless they get adopted very quickly (which is a great thing!). But the greatest thing is definitely adoption. Seeing the animals find their forever homes is such an amazing feeling. As volunteers, we all grow bonds with the dogs, and nothing makes us happier than seeing them finally live in a home with a loving family." 
If anyone has any supplies that are listed in the attached flyer, please donate to this animal loving organization.