Izzy Peralta: A Scholar Athlete Honored
Every week, News 12 New Jersey selects a "Scholar Athlete of the Week" from a large pool of applicants nominated by their coaches and teachers.  The first week of December featured Lakeland Regional High School's very own Izabella 'Izzy' Peralta for her accomplishments both on and off the field hockey field.  
This award, established in conjunction with the New Jersey Education Association, seeks to honor "New Jersey high school seniors who are successful not only in the classroom, but on the court or on the field," according to the NJEA's website.  Seniors are nominated by their teachers and coaches through a rigorous application. Peralta has been selected as one of thirty five student athletes to receive this honor. Her segment appeared on December 4, 2019 – click here to view it.  
Peralta was "incredibly surprised," to have won this award, she told The Ledger when we caught up with her December 3.  Peralta was nominated in part by teacher and coach Ms. Patricia Kebrdle and did not know she was nominated until she won the award.  She said that she felt "achieved" and that her "achievements had been validated."
As field hockey captain and an all conference athlete, Peralta has lead the field hockey team to two county finals appearances and one win.  On top of this, Peralta is also a National Field Hockey Coaches Association Academic All American. Coach Kebrdle cites her leadership as one of the driving factors behind the team's success, saying in the segment, "[Peralta is] a leader and a standout for all the young players."
Peralta says this honor serves to "recognize students that have accomplished a lot in the classroom as well as in field hockey."  
Peralta is a four sport athlete.  In addition to field hockey, she plays lacrosse, bowling, and winter track.  She works hard to successfully balance her academics with her athletic career.
Peralta's academic prestige is well established, expressed in her number two class rank, but it is the delicate balance of excellence between sports and academics that she consistently maintains that truly sets her apart.  Peralta sees sports not as an impediment, but a benefit to her academic endeavors. "Sports help me to want to stay on track," Peralta said. She also cites hard work, self discipline, and the occasional sleepless night to finish assignments on time.  
Peralta hopes be appointed to the Naval Academy "to serve her country" and utilize her aptitude for "leading and helping out."  She wants to study nuclear engineering to continue the United States' and the Navy's legacy of excellence in nuclear propulsion.  
With her aspirations of becoming a nuclear engineer, it's no surprise she has taken a leading role in the LRHS Research Group.  This program is highlighted in the News 12 segment.  Peralta explains some of the capabilities of the machines and the program at Lakeland and how the research being done here relates to the real world.  
Mr. Jaroslaw Slusarczyk, a chemistry teacher and one of the directors of the research program and Lakeland, offered high praise for Peralta.  "She is an integral part of the further development and growth of the [research] program as well as a key mentor to underclassmen," he said. "All in all, her contributions not only made an impact on the analytical aspect of the research program, but also had an immense impact on her classmates and their development."
Peralta now has a chance to receive one of four $1,000.00 scholarships or the grand prize $5,000.00 scholarship provided by the NJEA, which will be determined at the end of the year. 
Leave a Comment
About the Contributor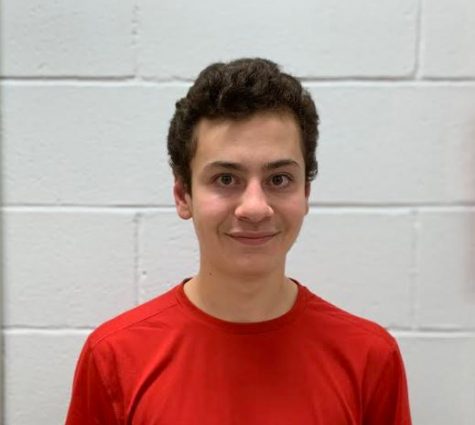 Jake Wierer, Managing Editor
Jake is a senior at LRHS.  This is his second year writing for The Lancer Ledger.  He is a member of the Lakeland band and the robotics team.  Outside...