Top 3 'Underrated' Rock Bands
Rock music greatly impacts millions of people throughout the world. People use rock to relax, express themselves, reflect on life, and come to terms with their emotions. It holds the capability to alter perspective, change moods, and motivate positive growth. A study from Harvard University shows that music improves mood and heavily reduces anxiety – but oftentimes, it can be difficult to find good bands that you resonate with; so let me help you…

Dirt Poor Robins

Dirt Poor Robins

Dirt Poor Robins is a cinematic and theatrical rock band from Louisville, Kentucky. Its members, Kate DeGraide, Neil DeGraide, Alex O'Nan and Josh Brown, released their first album, The Cage, in 2007. Their albums tell stories, with each song being another chapter. Queen of the Night is one of their best albums thus far. It was released in 2022 and is Dirt Poor Robins' fifth concept record, being their first ever story to be accompanied by a fifty-five minute short film. The band has produced so many extraordinary songs throughout the years; they're definitely worth checking it out.

Ten Years After

Seventies Rock

Ten Years After is a British blues rock group. The band consists of Alvin Lee, Leo Lyons, Ric Lee, Marucs Bonfanti, Chick Churchill, Colin Hodgkinson and Joe Gooch. They were heavily popular in the late 1960s and early 1970s and managed to have twelve albums enter the U.S. Billboard 200. Additionally, between the years of 1968 and 1973, the band had eight consecutive top 40 albums on the U.K. Albums Chart. Ten Years After still publishes monumental music, with their latest album being Seattle 1969 published in 2022. "I'd Love to Change the World" is a song about how things we hear everyday through the media and people are meaningless and don't provide direction of any mannerism to change the world. "I'd Love to Change the World" and "Let the Sky Fall," both released in 1971, are two astonishing songs from this band that deserve a listen.

Bad Brains

Warner Records Vault

Bad Brains is a heavy metal band that was founded in 1977. Its members are H.R., Dr. Know, Earl Hudson, Darryl Jenifer, Sid McCray, Chuck Mosley, Israel Joseph, Chuck Treece, Maxwell Mackie Jayson and Taj Singleton. Impressively enough, the band still publishes music; their latest release being "King Of Glory" in 2016. Another great one, "Big Takeover," is a song about segregation and the world being taken over by hate. Bad Brains is a band that talks about real world issues in a more positive fashion. The band's music expresses a vast amount of unity and resistance, which brings people closer together with each song that plays.

Rock impacts countless people throughout the world. It's utilized to express culture, beliefs, identity, religion, social conditions and more. Rock is a powerful and strong form of spreading ideas that influence the world. Not only has rock n' roll kept its groove throughout the years, but it has also evolved into other forms of 'rebellious' music that delivers powerful messages. In other words, rock is beyond just pure enjoyment – it allows people to really think about the world they live in. Rock has resulted in the creation of many new subcultures of music; all of them are worth listening to.
Leave a Comment
About the Contributor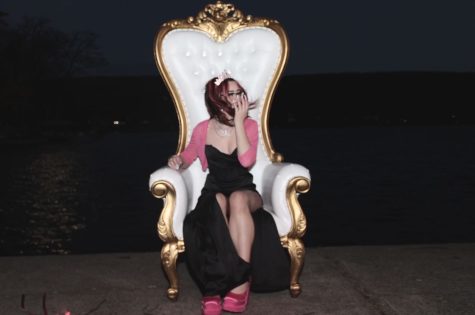 Adriell Schuster, Staff Writer
Adriell is a sophomore at Lakeland Regional High School, and this is her first year writing for The Lancer Ledger. She is beyond thrilled to begin writing...