Lakeland Regional: Slowing COVID-19 in #YourCommunitySchool
Staff and students at LRHS found out on Friday afternoon of March 13, 2020 that school would be closed until at least March 30 due to the rapid spread of COVID-19. As the Coronavirus cases increase in New Jersey, The Lancer Ledger looked at some of the precautions Lakeland Regional High School took and is taking to help prevent the spread of COVID-19 and keep their community safe. 
On March 2, 2020 a letter was sent out to the teachers of LRHS.  According to School Business Administrator Mrs. Kathryn Davenport, "Facilities Supervisor, Bill Grimes, instructed the night crew to start spending extra time disinfecting desktops, tables, door knobs, handrails, panic bars, dispensers, phones, light switches, etc."  These items were to sit with the sanitation product on the surface for 10 minutes for increased effectiveness. On February 29, 2020, Fred Smith, Roger Gould, and Bill Grimes disinfected the fitness center, nurse's office, gyms, lecture hall, trainer's room, main office, ERASE room, the east building's rooms, 200 wing, and the Annex.
On March 4, a letter was sent to parents and guardians about the Coronavirus and basic procedures.  Superintendent Mr. Hugh Beattie recommended keeping sick students home. He said, "A child with a fever of 100.0 or higher should remain home from school until they are fever free, without the use of fever reducing medication, for a period of at least 24 hours."  Emphasis was put on washing hands and avoiding touching the face. Additionally, he continued to tell the community about the cleaning process that the district has implemented.
On March 6, another letter was sent to parents and guardians explaining that one parent of two students in the school may have had brief exposure to the Coronavirus.  LRHS acted on this information and and asked that the students be quarantined for 14 days. Later, it was revealed that the parent tested negative for the virus.
On March 9, Assistant Superintendent Mr. Michael Novak emailed students and called homes to explain that the school would not close, but classroom closure plans would be posted online in case of closure.  He explained how "plans were recommended in case the Lakeland Board of Education is provided a written directive by either the New Jersey Department of Health (NJDOH) or the Health Officer to institute a public health related closure."
On March 13, due to what many called the inevitable closing of Passaic county schools after it was announced that Bergen's would close the night prior, Mr. Novak came over the PA system and emphasized that the school will not be closing until told to by official sources.  It was clear, however, that his intention was to once again remind students that plans are posted online for each of their classes.  Additionally, he reminded all students who may not have access to online resources to check out Chromebooks in the Media Center (a message sent home to students and parents earlier in the week) and take home all necessary materials.
Later in the day, on during March 13, it was announced that the school would be closing until at least March 30. This is due to the CDC's and public health official's recommendations to help stop the spread through social distancing. The school is to be closed for at least 14 days and all spring sports will be postponed.
In the following day, Mr. Novak continued to email students and guardians about the unprecedented situation.  Mr. Novak has even set up a Youtube channel to stay in contact with students and parents. Students are encouraged to reach out to their teachers to stay up to date with assignments and stay on track with their work load. 
With numbers rising in New Jersey to 267 confirmed cases as of the evening of March 17, according to Johns Hopkins, Lakeland has been taking the right steps to help slow the spread of COVID-19.  During this time of uncertainty, Lakeland has been very transparent with their community. #yourcommunityschool
Leave a Comment
About the Contributor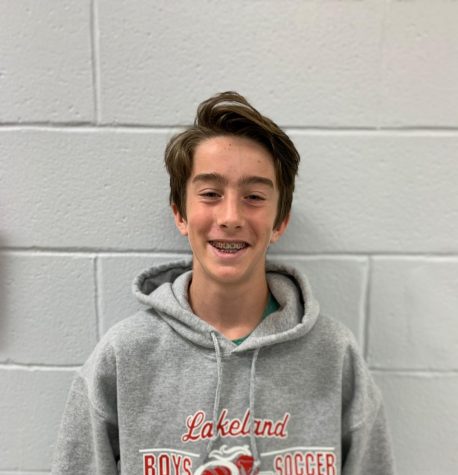 Nathan Caldwell, Lakeland News and Sports Editor
Nathan is a sophomore at LRHS and is a writer for The Lancer Ledger. Nathan is not new to the journalism field - this is his second year writing for the...