As October comes to a close, the Lakeland Regional High School family prepares to say goodbye to one of their most beloved teachers as he embarks on retirement – Mr. Thomas Allen. 
Mr. Allen has served as a valuable member of the staff, teaching a variety of classes over his time at LRHS, including: Printing 1-4, Photography, Technical Drawing, S.C.O.P.E., Desktop Publishing, Introduction to Technology, Video 1-4, Studying Film, Advanced Film Studies, and Electronics for the last 43 years. 
"
WHEREAS, during his tenure as Teacher of Technology Education in our school system, he has provided outstanding leadership and dedication to the district in all aspects related to the development of the educational program to benefit the students of Lakeland Regional High School
— Lakeland Board of Education
Mr. Allen came to Lakeland in September of 1980 and has been here ever since. He told the Ledger that Lakeland is the only place he applied after his father said, "You better get a job or you have to move out." Since a young Mr. Allen couldn't afford to move out, he came here for an interview to teach the printing class. Fun fact: Mr. Allen was originally offered a woodworking job, but turned it down. Lakeland then offered him the printing job a few weeks later. Mr. Allen described this process as fate, being bound to end up working here.
In 1985, Mr. Allen brought the idea of the video program to the Lakeland administrations and board. That same year, the program began, and he built it from the ground up, eventually having the studio built in the video classroom. 
Mr. Allen says he has enjoyed his time here and would not rather have worked anywhere else. His favorite part of working here over the last 43 years is "spending time with the students." Nonetheless, people assume Video 1-4 are his favorite classes to teach, but he says that it is actually Studying Film. When asked why, he told the Ledger, "Studying film is just a great class, and students learn much more than they ever thought they would." 
Starting the video program is a legacy Mr. Allen is leaving behind and one that many students are thankful to have. After his retirement, the program will be left to two former students of Mr. Allen: technology teacher Mr. Jonathan Lauder and Mr. Allen's replacement, Ms. Alexandra Pagan, a Florida State University alum.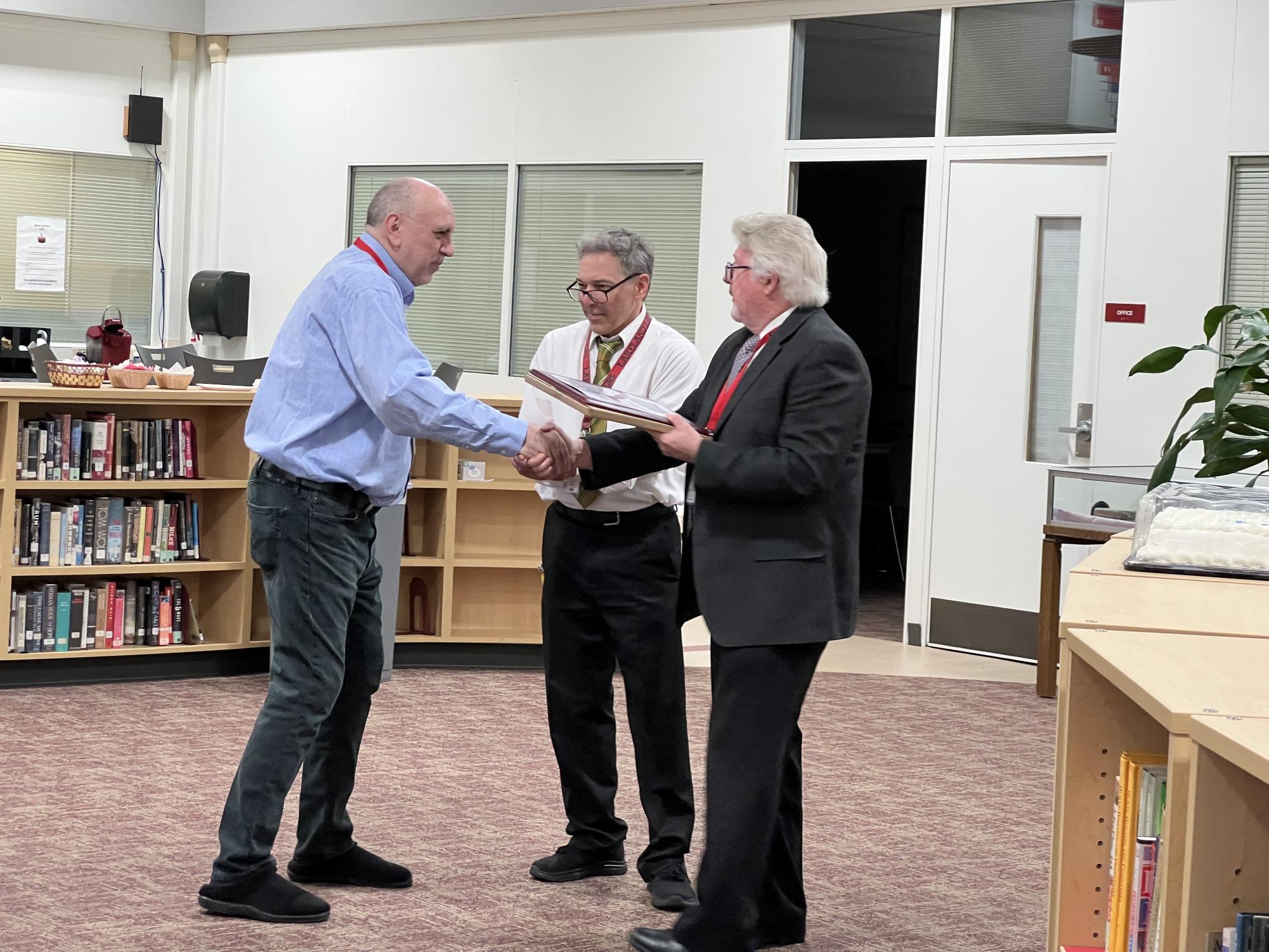 During his time as a student of Mr. Allen, Mr. Lauder says they "would work after school on the morning shows and films for the film festivals." The two became close and Mr. Allen served as a mentor for Mr. Lauder during his time here. Mr. Lauder says, "It is rare to find a teacher as dedicated to his students as Mr. Allen. The amount of time he would spend in and out of school to make sure we were our best creative selves is my best memory with him." After graduating and taking a job at another school district, there was an opening in the Lakeland video program. Mr. Lauder "jumped at it immediately," saying, "The chance to work with your mentor is never one to pass up. I am where I am today because of Mr. Allen."
Leaving behind the program he has built is difficult for Mr. Allen, but he is looking forward to  beginning this next phase of life. The knowledge that the program will be well taken care of has been easing his mind as he prepares to start his retirement. He told the Ledger, "I put a lot of effort into making it what it is, like building the studio, etc. I feel good that it will continue at the high level it is at now." 
In his spare time, Mr. Allen enjoys restoring machinery from the 1930s and 40s. He says he plans on spending time restoring machines like mechanical slot machines and cash registers. 
Often students take the time and care their teachers put into them for granted. Over the last 43 years, Mr. Allen has put countless hours to ensure his students are becoming the best version of themselves, inspiring so many people. The dedication he has shown over his time here is extremely admirable. He has built a program students come to Lakeland for from the ground up. While his retirement will be filled with adventures and joy, he will be dearly missed. The Lakeland Regional High School community thanks Mr. Allen for his time here and wishes him the best in all his future endeavors.