Review: "A Brief Inquiry Into Online Relationships" Album
Hang on for a minute...we're trying to find some more stories you might like.
The 1975 is notorious for being a daring and exhilarating band, always pushing society's boundaries of music with mixed styles and controversial, meaningful lyrics. Their new album A Brief Inquiry Into Online Relationships is nothing short of this. A Brief Inquiry includes auto-tuned techno pop, jazz standards, raw acoustics, spoken word and everything in between. The album represents today's society and the fear associated with it.
Too add to this, in the middle of writing this album, The 1975's leader singer and songwriter, Matty Healy, checked himself into a rehabilitation facility for his heroin addiction. Being able to feud some of that dread and agitation, he created A Brief Inquiry.
The album begins with the band's signature piece "The 1975," the song that always introduces each album that never varies lyrics, only arrangements. The composure of this song is undoubtedly the most interesting yet, starting off with soft piano acoustics and quickly transitioning with a heavy, intense auto-tune of the lyrics.
The album then flips to the first upbeat pop song of the album, "Give Yourself a Try," a song dedicated to younger teenage fans about the struggles of growing up and always feeling the need to feel unwavering happiness.
Another upbeat song of the album, "Love It If We Made it," is arguably the most meaningful piece in the album, pinpointing specific disturbances in today's society, mentioning Trump, Kanye, Lil Peep, climate change, refugee abuse, and much more. Healy's genius writing ability is unmissable in this song, as not only does it include endless references that make you second guess the world we live in, but the entirety of it is also a complete rhyme scheme.
The highlight ballads of the album are "Be My Mistake" and "I Couldn't Be More In Love." "Be My Mistake" is settled on a calming sequence of simple guitar chords. This song is intimate and warm, a sort of apology/love note written about the guilt young people hold for not knowing what they want and the mistakes we all make along the way. "I Couldn't Be More In Love" is significantly less simple, yet still an incredible song about love. Recorded right before Healy left for rehab, he let his personal pain and fear show through his vocals.
Somewhere in between sits "Sincerity Is Scary," a captivating postmodernism thought-spiral, featuring famous jazz trumpetist Roy Hargrove, who passed away shortly after recording the piece.
The album ends with "I Always Wanna Die (Sometimes)," which wraps up the album with a bittersweet Britpop inspired song that encourages young people to look at the inevitable bright future that their lives hold. This piece is encouraging, hopeful, and all around beautiful, making a perfect conclusion to this sensational album.
A Brief Inquiry Into Online Relationships is definitely one you shouldn't miss, and I encourage you to go out and buy it, download it, or add it to your playlists.
About the Writer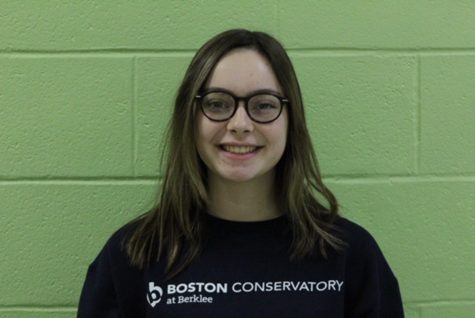 Raina Landolfi, Staff Writer
Raina is a senior at LRHS and staff writer for The Lancer Ledger.  Raina is very excited to be a part of the restart of The Lancer Ledger. Raina's favorite...