A Timeless Story: Why You Should Watch Pride & Prejudice
Romance is one of the highest grossing genres in literature and cinema. People enjoy watching and reading romantic movies and novels because it encourages empathy in them. Within the genre there are different tropes like friends to lovers, enemies to lovers, right person wrong time, and so many more that make romance as a whole more enjoyable. In Pride and Prejudice, a Victorian era book-to-movie adaptation, took the enemies to lovers plot and truly made it a romantic staple.
The Plot (Spoiler Alerts… for those who don't read Victorian literature on the weekends)
Elizabeth Bennet is the main character and the second of five sisters. Her older sister, Jane, has always been the beauty of the family, and their mother Mrs. Bennet is set on marrying her off rich along with the rest of the daughters. When a wealthy estate owner, Mr. Bingley, comes to stay at his mansion near their home, Mrs. Bennet sees an opportunity to get her and her five daughters invited to his housewarming ball. She succeeds, and they all attend the fun party. When Mr. Bingley enters the room, he can't take his eyes off of Jane. They dance together the whole night and he is introduced to the rest of the sisters. His wealthier companion, Mr. Darcy, stays at the front of the hall the whole night, and when Mr. Bingley suggests he dance with Elizabeth, he says she isn't handsome. Unfortunately, Lizzie overhears, and that is where her hatred for him begins.
Throughout the rest of the movie and book, Mr. Bingley and Jane meet up several more times. While they meet up, Mr. Darcy, who is staying with him, and Lizzie, who is Jane's sister, have forced encounters at Bingley's estate. Bingley eventually proposes and Jane says no, because she is a shy girl and doesn't know what she wants. After this, it seems that Mr. Darcy and Lizzie aren't going to have to deal with each other since their connecting relationship has been broken off; however, fate steps in and they accidentally bump into each other several more times.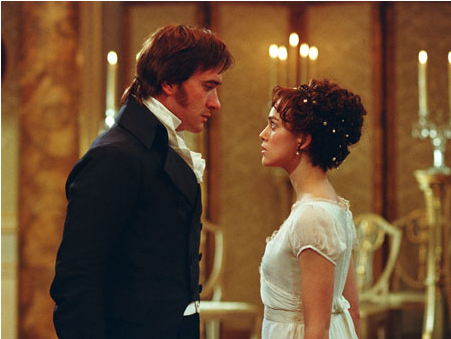 They meet each other when Lizzie goes away to spend time with her best friend – who married her cousin. The three of them go to the big mansion of their neighbor, Lady Catherine, and low and behold Mr. Darcy is there and is actually the nephew of the owner. Later, Lizzie goes on vacation with her aunt and uncle, and they go to the Pemberley Estate, which just so happens to be Mr. Darcy's home, for a tour. They expected him to be away, but he was very much there and was excited to see Lizzie, since he had grown rather fond of her.

Of course, to fit the friends to enemies theme, there is a big fight. Mr. Darcy confesses his love, proposes, and insults her family in the process, saying they're too focused on marrying rich and expanding their status. Lizzie storms off, promising to never see him again, nonetheless marry him, but Lady Catherine comes to Lizzie's house in the middle of the night threatening her. She had already planned for him to marry her daughter, and saw her as a threat. Lizzie promised she would never want to marry a man like him. Lady Catherine leaves the house just as quickly as she entered it, and the next morning, Mr. Darcy comes to Lizzie, and meets her in her garden. He says the infamous line, "You have bewitched me body and soul, and I, I, I love you." The two end up getting married, and she moves into the Pemberley Estate. Her sister Jane comes around to marry Bingley as well, and they all live happily ever after.

A Timeless Movie for All Romance Buffs

Focus Features

The characters Mr. Darcy and Elizabeth Bennet show how love is something that blossoms unexpectedly. They hated each other in the beginning, but ended up deeply in love. They show that romance is at times unconventional and isn't about just finding the perfect happy match. Mr. Darcy was obviously very flawed. He was prideful and had prejudice against people of lower classes, but he was able to grow and develop because of love. Elizabeth was stubborn and set on marrying for money, not for true affection. She ended up finding a man with both, and putting her stubbornness aside, she was able to not only make her family proud, but find true love. Isn't that what we all want?

You should watch Pride and Prejudice because it is a story not only of romance, but of different people in society coming together despite their major differences. It's about family and loyalty, as well as finding happiness without having to depend on money. The movie is perfectly casted and clearly depicts the comedic aspect of the book, while still keeping a serious undertone.

Everyone who is anyone should watch the movie, and definitely read the book, especially if you are a romance buff!
Leave a Comment
About the Contributor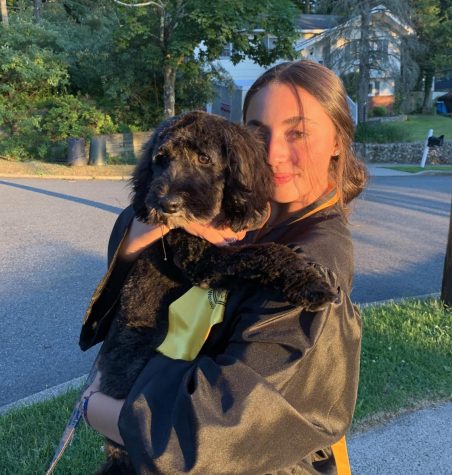 Brianna Rodriguez, Opinion Editor
Brianna is a sophomore at LRHS and this is her first year writing for The Lancer Ledger. She is excited to be taking Journalism 1 because it will help...