Swift Is a "Mastermind": Rundown and Review of the Record-Breaking Release of Midnights
It is not very common for an artist to release a new album and within its first week, be named the biggest album of the decade. But for Taylor Swift, she makes the impossible possible. The release of Swift's tenth original studio album Midnights has shattered records right and left, and Swift has yet again come to dominate both the charts and the world.

Swift has been brewing up anticipation for the October 21, 2022 Midnights release since she surprisingly announced the album at the 2022 MTV Video Music Awards on August 28. Swift never released a single off of the album, yet rather kept her Swifties on their toes through a video series she named "Midnights Mayhem With Me." Between September 21 through October 7, Swift released videos of herself drawing up random bingo balls numbered 1-13, and then announced the corresponding track title.

Swift Leaks 2.0

But despite the fact Swift never released a single leading up to the album's release, she still made history. According to Billboard, Midnights has become the "biggest week for any album in nearly seven years," tallying approximately 1.578 million album units in just the first week. The last album to rake up a large week was Adele's 25 in December of 2015 with 3.482 million album units. The album became Swift's eleventh number one album on the Billboard 200. And, according to CNN, she made history when she became the first ever artist to claim all 10 slots on the Billboard Hot 100- at the same time.

And this is just the beginning – NBC News revealed that Swift is now tied with Barbra Stresiand "as the female artist with the most No. 1 albums in the chart's history" and the sixth act to achieve over 10 number one albums, joining music legends like The Beatles and Bruce Springsteen. She has also become the first and "only artist to have five albums debut with over 1 million units sold in their first week in U.S. Nielsen history." And despite being released just two months before 2022 comes to an end, Midnights has become the year's top-selling album, according to its sales, beating Swift's own record for the largest sales week for an album with Reputation in 2017. Swift has continued to dominate the charts even after Midnights' release, with the album's first single "Anti-Hero" remaining at number one on the Billboard Hot 100 charts since its debut.

The record breaking does not stop there – another contribution to her record-breaking sales week is the fact that the CD edition of Midnights logged 395,000 units in sales. Swift also shattered the modern-era U.S. record for a single week of vinyl sales with an impressive 575,000 sold. Curious just how smashing this record is? Before, Harry Styles' Harry's House was named top vinyl seller in its debut week, totaling 182,000 in sales. Midnights also had the third largest streaming week for an album with 549.26 million on-demand streams, just shy of Drake's Scorpion and Certified Lover Boy; however, the album also became "the biggest streaming week for a non-R&B/hip-hop album and any album by a woman."

And to top off this excitement, Swift announced her first stadium tour since 2018. The Eras Tour will begin in the United States, with international dates to be announced when possible. Swift will be bringing along various special guests to different shows including indie rock artist Phoebe Bridgers and sister rock band HAIM.

Midnights: A Breakdown

13 is Swift's well-known lucky number, so it is to no surprise that her first double digit album had to be a special 13 tracks long. But Swift is known for her surprises; at 3 a.m. Swift dropped Midnights (3am Edition) which included not one, not two, but seven bonus tracks.
Midnights, the stories of 13 sleepless nights scattered throughout my life, will be out October 21. Meet me at midnight.

Pre-order now: https://t.co/jjqUNkphuG pic.twitter.com/Fh96zK8vro

— Taylor Swift (@taylorswift13) August 29, 2022
In a tweet, Swift describes the album as "a collection of music written in the middle of the night, a journey through terrors and sweet dreams." The album is more in the pop genre, resembling her albums Lover, Reputation, and 1989, as opposed to her two prior albums being more folk alternative. Many of the tracks express Swift's vulnerabilities, and she shared on her Instagram how she has never delved this far into [her] insecurities before.
The songwriting of Midnights is arguably some of the best work Swift has ever done; from the use of figurative language to the poetic-like storytelling, it is no wonder that Swifties have been left in awe by the intellectual lyrics Swift has continued to produce.
But it's not just the songwriting of this album that makes it a must-listen, but also its entire production. Swift intentionally adds in background music or sings in a certain range to really bring her songs to life. In her song "Glitch" for instance, the Atlantic reveals how Swift intentionally jumps an octave from the pre-chorus to the chorus to mimic a glitch occurring in the song. Or look at "You're On Your Own, Kid" where the song starts off slow, mirroring how young Swift struggled to navigate the new world she was entering. The song then progresses into an intense bridge, and finishes off in a more upbeat, confident tone, mimicking the coming-of-age experience Swift underwent.
And if you are not a certified Swiftie, the one thing you should know about Swift is that she is always leaving easter eggs for her fans to piece together. The first easter egg for Midnights can be traced back to May 2022 when Swift referenced lyrics from "You're On Your Own, Kid" in her New York University graduation speech, long before the album was even announced. Since Midnights has been released, Swift has dropped a music video for "Bejeweled," and talk about easter eggs central – in an interview with Jimmy Fallon, Swift explained how there are so many easter eggs in the music video, herself and her team had to make a PDF file just to keep track of all the hidden gems. Most of the easter eggs reference Swift's Speak Now era, leading her fans to believe that Speak Now (Taylor's Version) will be the artist's next release.
We could say Swift's accomplishments are shocking, but that would be a lie; no one was doubting that Midnights would be as successful and incredible as it has proven to be. But what we can say is that Swift continues to leave the world in awe with her ability to come back and shatter records left and right each time she releases a new album.
Leave a Comment
About the Contributor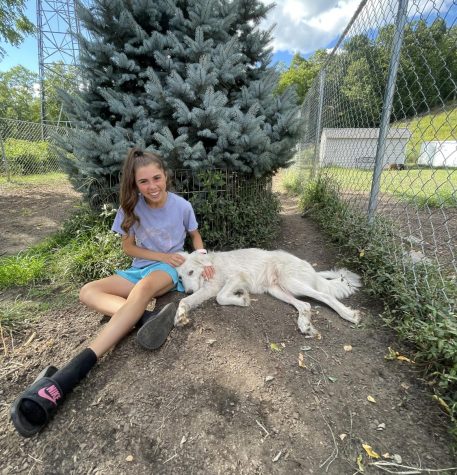 Morgan Uhlhorn, Editor-in-Chief
Morgan is a senior at Lakeland, and is beyond excited to be this year's Editor-in-Chief for The Lancer Ledger. This is her fourth year writing for the...