Lakeland's Boys Varsity Soccer: First Conference Title in 32 Years
November 26, 2019
Lakeland Regional High School's boys varsity soccer, lead by Coach Don Peterfriend, boasted an impressive record of 13-6 along with a conference title during the 2019 season through hard work and resilience.
The team came off a great previous year that ended in disappointment, so they were fired up and wanted to win.  Captain and senior Carlos Cuevas explained how "the goal was to win counties and state sectionals."  Many of the players still had a bad taste in their mouths from the 8-1 loss to Glen Rock that ended the previous season.
Even the many new players felt the loss and wanted to win more than ever.  This new varsity team consisted of seven seniors and a very young core. In the beginning of the season, Cuevas had concerns about this.  "I didn't think we were looking too hot, I didn't think our season was going to go well…"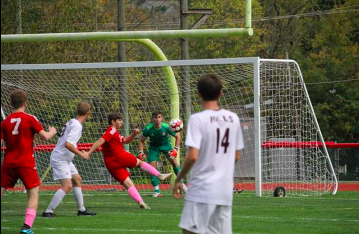 However, the rebuilding squad turned their year into one of the best in Lakeland boys soccer history.  The squad ended with an impressive record of 13-6 and visits to both counties and states. According to Cuevas, the key players were junior Nick Dubac in midfield, junior Danny Berry on defense, junior Ryan Arriaza on defense, and senior Matt Golas as forward, who put up 29 goals this season, a new Lakeland record.
"
I just wanted to leave my mark on the school and be someone that could be looked up to for the younger kids coming into the team."
— Matt Golas
Golas' feat came through the many multi-goal games he had; there was rarely a game where he didn't score.  Golas stated how he "just wanted to leave [his] mark on the school and be someone that could be looked up to for the younger kids coming into the team."  Golas also led the team in scoring last season as well. 
Cuevas also played solid goalkeeper throughout the season, racking up 118 saves according to High School Sports NJ.  Golas had this to say about Cuevas, "Carlos has never played goalie before, and he stepped up and filled in a large gap that we needed to be filled."  Coach Peterfriend even weighed into this topic, praising Cuevas for his selflessness in his end of season speech.
This doesn't mean there was no one else helping the effort.  Cuevas credits a lot of the young players for stepping up as well. 
Counties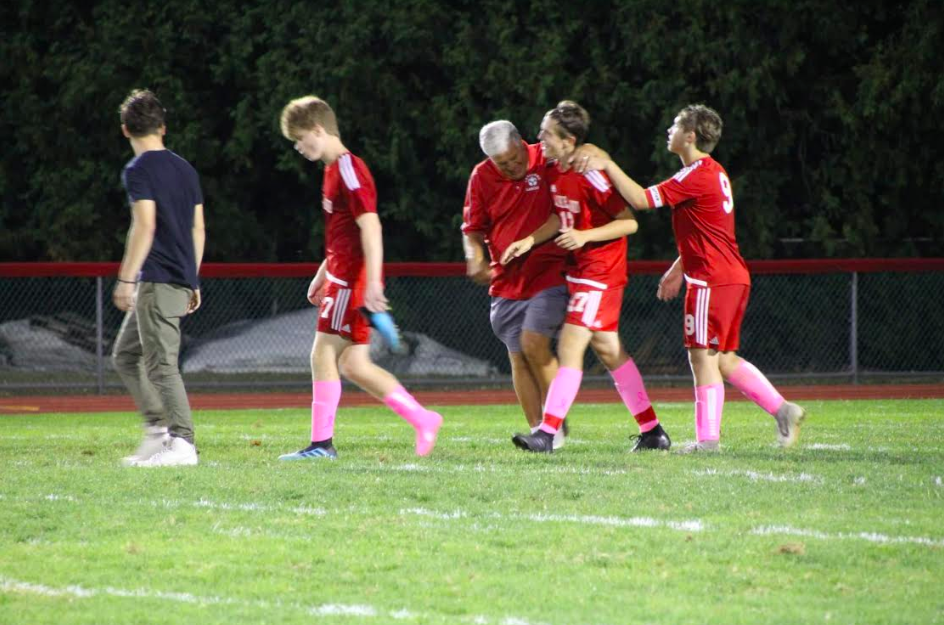 Going into counties Lakeland had a record of 9-3.  Their last win was away against Passaic Valley, 1-0, who they would have to play at home in the first round.  Lakeland was pumped up and ready to go. However, they found themselves down 2-0 at halftime. Lakeland was down, but not out.  Early in the first half, Golas scored a penalty kick, bringing Lakeland closer to the win. Time was winding down, but Lakeland continued to push on the offensive end.  And with the game coming to an end, sophomore Riley Frascella hammered a goal in, sending the teams into overtime. It seemed Lakeland had momentum and could not be stopped.
However, in overtime, a skeptical penalty call gave the opposing team a chance to score, and they did.  The Lakeland players were heartbroken, but they stayed together. In the following games, they would go on a three game win streak, lose one against Indian Hills, and win 2-0 against Paterson Eastside.
Conference Champs
Their record was now 13-5, which was enough to make them the conference champs, something a Lakeland boys soccer team hasn't done in 32 years.  Because of their record they also got into the state sectionals tournament as a four seed.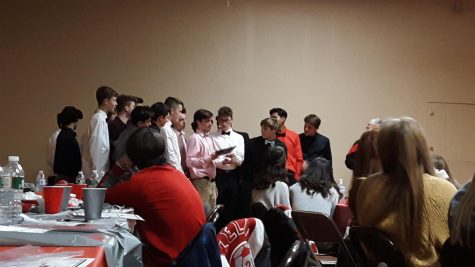 Sadly the team ended their season with a 4-3 loss against 13 seeded Demarest, finalizing their record as 13-6.
Cuevas explained how despite falling short of their goal of winning states, the team made him very proud.  Golas explained, "We never expected to be as great as we were[,] but we worked hard and pushed ourselves to be our best."  
Freshman Aidan Delpino credited the team for playing their hearts out every game.  He is looking forward to next season and another shot at winning counties and state sectionals.
The season, despite ending in despair, was a real show of Lancer pride, power, and possibility.