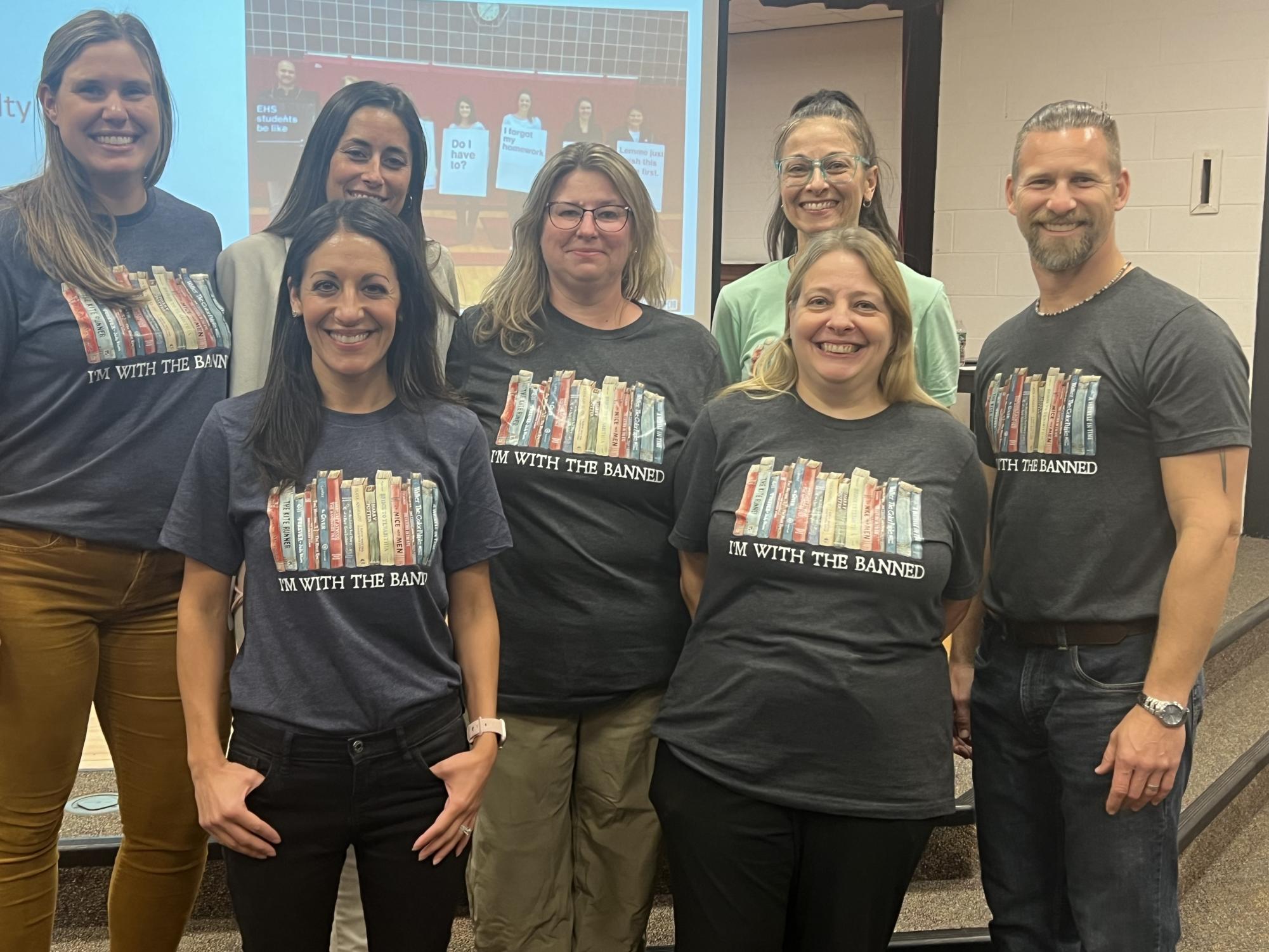 Lakeland Regional High School urged students to "Let Freedom Read" during Banned Books Week, which fell on the week of October 1, 2023. 
Throughout the week, the Media Center, with the help of LRHS English department, displayed several notable works that have been either challenged or banned, encouraging students to dive into both classic and modern literature. 
English teacher Ms. Kali Spoelstra spearheaded the idea for the display as she believes that banning books can overshadow and exclude representation of certain groups, important life messages, and accurate depictions of historical events. The English department as whole stood behind the idea; they even sported shirts that read "I'm With the Banned" to kick off the week. 
According to the American Library Association (ALA), the number of challenged books has nearly doubled in the past few years. In recent years, the topics that spark controversy usually revolve around what is being discussed politically, including subjects about LGTBQ+, race, and sexuality. The ALA reports that most book challenges are secluded to a school district or community, and rarely reach a broader scope.  
Here are some challenged books that LRHS teachers recommend picking up and discovering: 
1984 by George Orwell – recommended by Ms. Melissa Roush : This iconic work by George Orwell serves as a critique of authoritarianism on both the left and the right. This book is important for us to understand and recognize totalitarian governments and systems. The book's meaning has changed with the times and will probably continue to over time yet its meaning stays consistent with acts of censorship, oppression, and authoritarianism. Banning such a book is dangerous for the freedom of speech and for warning of authoritarianism.
The Catcher in the Rye by J.D. Salinger – recommended by Ms. Jamie Cawley: The Catcher in the Rye is a novel about a pessimistic teenager, Holden, and his experiences as he critiques the "phoniness" of society. This book is important as it discusses relevant flaws in society, and gives a perspective that many teenagers can relate to. Banning this book will limit these critiques on society from being recognized, and without recognition, there is now way to address these issues in society. If we ban such perspectives, society will stay stagnant, with no opportunity for improvement.
Invisible Man by Ralph Ellison – recommended by Mr. Eric White: Invisible Man is a story that delves into the complexities of racial issues in America. This book shares the struggles of a man experiencing racial discrimination and feeling invisible within society. It is important that this book is read so that the racial issues depicted in this novel can be addressed in society, and make the people who feel invisible feel seen. Banning this book undermines these issues and people who are suffering from them. It is important that we read this novel in order to recognize the inherent issues in our society, so that we can have a hope of understanding and rectifying them.
Maus by Art Spiegelman – (again) recommended by Ms. Cawley: Maus is a collection of comics from the author sharing the stories of his father Vladek Spiegelman, a Holocaust survivor. The book gives an interesting and horrifying view of the Holocaust especially via the symbolism of Jews being rats and Germans being cats. Banning this book is dangerous as it doesn't allow for the younger generation to learn from and not repeat history; it allows for continuation of prejudice as kids and teens won't be able to learn what happens when anti-semitism is allowed to thrive and take power.   
To read more about Banned Books Week, check out the ALA's website here.