LRHS's College Fair: A Great Opportunity
Hosted annually, the Lakeland Regional High School College Fair is an event where students can familiarize themselves with up to 70 different colleges by talking to different representatives and learning unique information about each individual school. The fair takes place in the cafeteria, the senior meeting room, and the East gym.
Juniors, as well as some seniors, are called down at the start of the school day. When they arrive at the fair, they get to browse the many booths that have logos and cards about the particular college. On top of 2 and 4-year colleges, there are also military recruiters and vocational schools invited to meet the needs of all students. Students are supplied with a list of everyone in attendance so they can make the most of their time.
How the College Fair Benefits LRHS Students?
The annual college fair events can benefit LRHS students in many ways. First off, the fair can help students to get accepted into a college they were interested in. This is because college representatives can provide students with greater insight on what the college looks for in applicants.
Additionally, the fair also helps juniors and seniors widen their options and possibly find a college that is the best fit for them as students are able to get authentic advice about colleges and what they should expect in their upcoming college years. Having their peers around them and being in the comfort of their own school can make the talk about college feel less overwhelming. Another added bonus is there are no parents around; the colleges will get to communicate with the student one on one, and in turn the student will learn independence.
Lastly, if students ever need advice, their guidance counselors are also present at the fair to help guide them in the right direction.
What LRHS Students are Looking For in a College
The college fair was designed to accommodate the needs and interests of the wide variety of students that LRHS has, this is why there are many colleges that specialize in many different areas.
Junior Alisha Tumser told the Lancer Ledger she plans to major in history. The type of setting she is looking for is small and local, which led her to considering William Paterson University.
Junior Sivana Shancey hopes to go into interior design and is searching for a larger campus with more people, which she explained may lead her to an urban environment. She wants the environment to be very communal, inclusive, accepting, and willing to help students with individual struggles.
Junior Ari Scott was unable to gain more information about Temple University, which they plan to attend, since representatives were unable to be at the college fair. However, they are interested in the university because they want to go into animation. They also expressed interest since Temple University also has a campus in Japan.
What Some Colleges Offer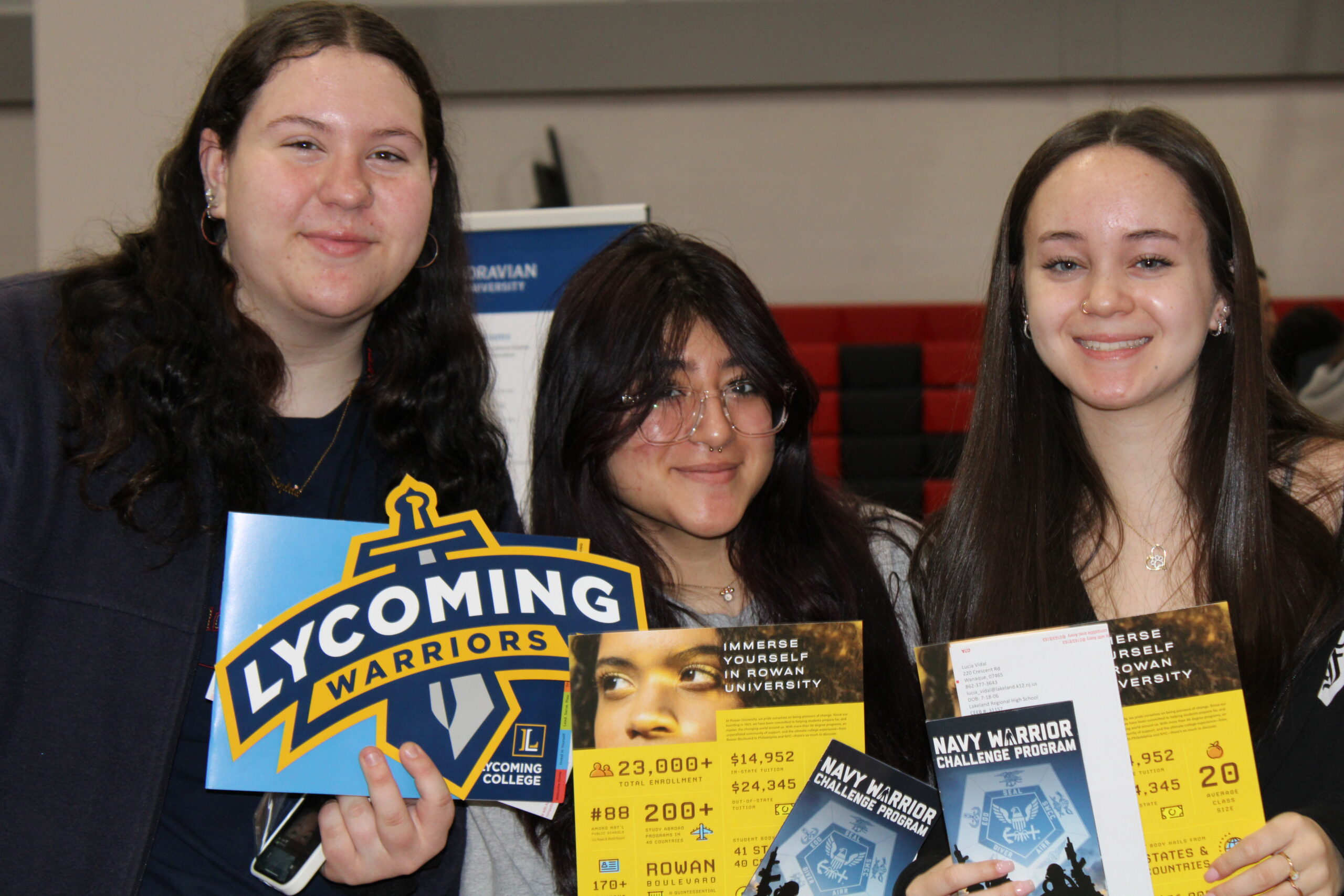 A representative of Caldwell University explained that their college specifically has a small population, which means a lot of attention and support is given to each individual student. The school excels in nursing and business, as well as having several STEM programs.
The Lancer also learned about Seton Hall's 3 + 3 joint degree program, which allows students to receive a bachelor's degree in three years before transitioning to Seton Hall Law to complete another bachelor's and earn a J.D. degree in three years. For a Bachelor's one can major in Business, Diplomacy & International Relations, Political Science, Social Work, or Religious Studies. This could then eventually lead into earning a law degree.
Another university that offered LRHS students a wide variety of programs and majors stretching from accounting to marine biology was Stony Brook University, with the school's main focus being their medical programs. According to representative Lucy Anne, Stony Brook is looking for "students who are the medium between nerdy and lively."
Like Stony Brook, Ramapo College has a 4+1 program which means that you could get your masters in five years. The college excels in education, business, and computer science.
On the science side, one school in attendance at the fair was NJIT, which is a big, top-tier R1 research university, offering cutting edge research and world class academics.
Advice for Underclassmen on the College Search
Coming into the upperclassman years as a high schooler might seem intimidating; however, there are many ways to improve, and be prepared for the tough years ahead. In an interview with the Lancer Ledger, counselors Mr. Brian Mulhern and Ms. Dianalyn Matlosz said the first piece of advice is to be prepared to challenge yourself. Junior year is often considered to be the most difficult year of high school, so it is important to keep yourself from falling behind.
Another important thing to remember is that getting involved is a very important factor that colleges look at. Mr. Mulhern and Ms. Matlosz shared, "Extracurriculars make for a more enjoyable high school experience, show depth in your interest, build a resume, and allow you to demonstrate time management skills. Oftentimes, students who join extracurriculars end up making friends that last all their four years and sometimes into college."
A common worry with underclassmen is the belief that just because the first few years went south, they might not get into a good college. If this is the case for you specifically, don't worry. Colleges look at grade trending, meaning they focus more on if the grades went up during your time in highschool. It is important to keep one's head up and try to progress.
Leave a Comment