Celebrating Autism Awareness Month
April 11, 2023
Every April, the world comes together to recognize and celebrate individuals who live with autism. While those with autism should not be celebrated only this month, April is the perfect time to increase your knowledge and awareness about the disability and learn how you can make a difference. Read below to learn more about autism and how you can celebrate with your community and individually this Autism Awareness Month:
What Is Autism?
Autism spectrum disorder (ASD) is defined as "a broad range of conditions characterized by challenges with social skills, repetitive behaviors, speech and nonverbal communication." Children or adults with autism struggle everyday with basic tasks or skills, varying from mild to extreme. There is not one broad category for autism; depending on the person or their surroundings, each individual has their own challenges to face as well as things they succeed in. Autism affects almost 75 million people around the world, and deserves much recognition.
What Is Autism Awareness Month?
April has been known for being Autism Awareness Month. During this month, awareness is spread to make life easier for not only individuals with autism but also for the caregivers and families who have someone in the household with the disability. This has been going on for quite some time. The first National Autism Awareness month was in "\April of 1970, which goes back 52 years from 2022.
Celebrating this month is highly important for communities. This month allows for those who aren't educated about the disability to receive more information that can allow individuals to understand a little bit more about what it is like to have the disability. Educating yourself is beneficial not just to you but for others. The information that you learn then can be passed to others. This will result in an increase of awareness. All of this comes from this month which is why it is so valuable.
How Lakeland Celebrated
Lakeland Regional High School is dedicated to celebrate and spread awareness during Autism Awareness Month, and not just in one way. LRHS has included several ways to celebrate, ensuring to involve as many students as possible.
Ms. Jamie Haftek, one of the school's amazing special education teachers, announced on the LRHS Live Feed that any member of the community can place an order for a blue t-shirt, a color often associated with autism, with a message of support. These shirts, sponsored by the Unified Club, would be worn on April 3, for a school-wide display of support. Even if one did not order a shirt, they were encouraged to wear blue clothing to show their support regardless.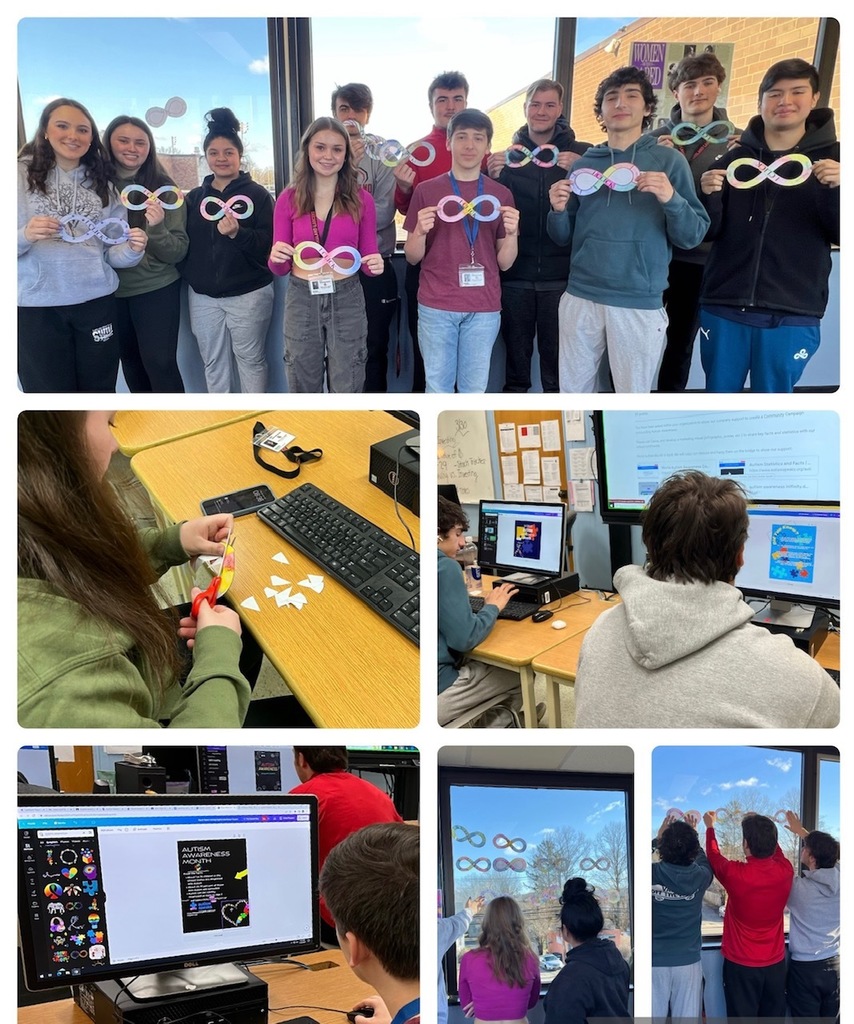 Additionally, several classes have been given a sheet with an infinity symbol printed on it, which represents the Autistic community, to color. The symbol is typically portrayed with a gradient of the colors of the rainbow, but students were told to put their creativity into them and design them how they wanted. Once completed, the ribbons were put up all across the bridge, connecting the west and east buildings. An example of a class going above and beyond in showing support is Ms. Geyer's business/personal finance class. Not only did they design their own personalized infinity symbols, but they created infographics with facts and information to support LRHS programs assisting and leading students with autism to success.

LRHS' YouTube channel posted a video in the Lakeland Bytes section on Wednesday, March 29 that incorporated a section where some exceptional LRHS students were interviewed and shared their experiences at Lakeland. They explained their growth and triumphs, expressing that despite some struggles, someone with autism can do anything they set their mind to. Also included were two members of the Unified Club, explaining how they strive to show their support for those with disabilities, not just during awareness months, but all throughout the year.

How You Can Celebrate
There are many other ways to participate in Autism Awareness Month, not just through LRHS. Firstly, one should learn about the history of autism. Those with autism have not always been viewed and treated with the level of awareness and support as today. Additionally, the symptoms and classification of autism spectrum disorder (ASD) have changed and developed over the years, so understanding how information about the community has progressed is helpful at recognizing how some people may view the disorder.

Despite ASD changing since it was first assigned as a disorder, stereotypes and misconceptions have unfortunately come with it. Some people may think of the most "basic" symptoms, when in reality, the disorder is a spectrum and every person with autism displays symptoms differently. Some symptoms include not understanding some social cues, having a hard time expressing emotions, or experiencing learning disabilities.

People with autism deal with varying struggles and strengths,so listening to them can help bring a more inclusive environment to any space, such as work, school, and other social settings. No place should exclude someone or let them struggle simply because they have a disorder. They should work with everyone, autistic and not, to implement a more welcoming, helpful, and adaptable environment, so everyone feels comfortable.

Wisdom and Words From Lakeland's Special Education Department
The special education department here at Lakeland is one of a kind. The LRHS educators who work within the autism field are incredibly passionate and dedicated to helping their students flourish. With that being said, as they have gained more experience from their years of teaching, they have come to find the truth that lies beneath many common misconceptions about individuals with autism.

According to CORE teacher Ms. Haftek, she preaches the importance of remembering that teenagers with autism are still teenagers; they often enjoy the "same things as a typical teenager," and feel the same desire to fit in and be "liked just like everyone else."

Lakeland TV

Similarly, special education paraprofessional Ms. Danielle Uhlhorn adds that it is commonly believed that students with autism have "severe limitations" that impact their ability to complete "everyday life skills and functions." But this is far from the truth, as Ms. Uhlhorn explains that all autistic students can complete and manage these everyday tasks. While the route they take to complete these goals may "require extra help and time to overcome their challenges," at the end of the day, "their goals are limitless."

Special education teacher Ms. Danielle Osborne describes how others can help to defeat these untrue perceptions about those with autism. To start, Ms. Osborne expresses the importance of understanding students with autism. Unfortunately, some of society has come to fear those with autism, believing that they are going to hurt others. But this is "not always true"; those with autism often "struggle with their feelings" and sometimes need extra guidance on how to deal with these emotions. In other words, Ms. Osborne explains that just because words may not affect you, they can bother a student with autism "and they can't always use their words to tell you." So by understanding this barrier, society can help those with autism and contribute to their growth, and become more aware of the power of their words.

Additionally, special education paraprofessional Ms. Lisette Delatorre adds that by going to "Autism Awareness events," like listening to speakers with autism, can help society become more educated on autism and see the truth amidst the common misconceptions.

And just as they are experienced, the special education department at LRHS is incredibly passionate about their jobs. Ms. Haftek's favorite part about working in the special education department is how "everyday is a new start" and no matter what new challenges may come with a new day, the students and staff can always work together to overcome these obstacles. Likewise, Ms. Osborne is nothing but smiles everyday she gets to come to work and watch her students "achieve their goals." For Ms. Delatorre, seeing her students smile because "he/she completed something with difficulty" fills her with joy as she knows she helped to make a personal difference in her student's day. Similarly, Ms. Uhlhorn's "heart swell[s] with love and [her] face smiles" when her students "rise on top" and overcome their challenges with such pride.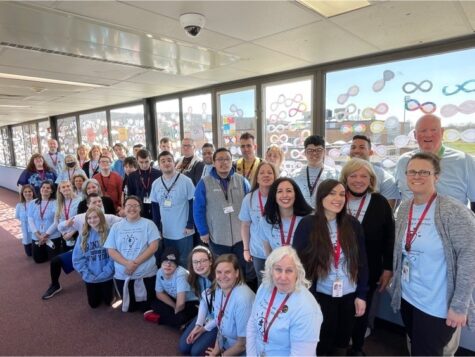 It's Time To Rock Your Blue
Now that you have become more familiar with understanding autism, there is no better time than this month to show your support and further increase your knowledge. So do your research, wear your blue, and celebrate with pride this Autism Awareness Month!