Ms. Murphy Honored as 2022 Teacher of the Year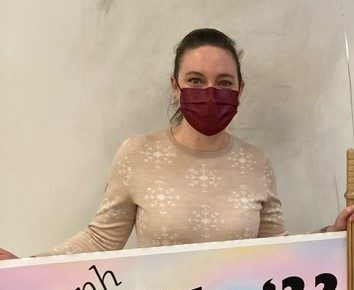 According to Google, a teacher is a "person who helps people to learn." However, Lakeland Regional High School's 2022 Teacher of the Year, Ms. Erin Murphy, is far beyond just that. Teacher of the Year is an award given to a teacher who is hard working, dedicated, and selfless towards their students. Though the decision is hard to make with so many amazing teachers at LRHS Ms. Murphy, math teacher and coach, is very well deserving of the title. 
When talking with Ms. Murphy, who has been in the math department at Lakeland for 20 years, she shared with The Ledger how much she contributed to the growth of LRHS programs. She said, "Lakeland prides itself on the arts, athletics, and academics, and I have been able to create programs in all three areas." 
Ms. Murphy not only teaches traditional math courses, but has helped launch computer programming classes C++ and Scratch. 
With knowledge of how great of a teacher Ms. Murphy is, The Ledger was curious as to what she felt got her to this point. "I incorporate various activities to help students learn and practice concepts, knowing that each student learns in a different way. Each year I try to evolve my teaching strategies to keep up with current trends in education and technology to better reach the students. I also try to add a little humor by telling a math joke before each lesson."
With regards to extracurricular activities, Ms. Murphy is a teacher who is involved, innovative, and loved by her students. She shared, "I started and coached the dance team for 10 years. I also coached the girl's tennis team and was the All-School production choreographer for many years. I started and currently coach the girl's varsity lacrosse team. Being involved with extracurricular activities has allowed me to interact with the student population outside of the classroom setting." 
Ms. Murphy's involvement and innovation in all areas of the school can be partially credited to her winning, and is clearly much appreciated by her colleagues and students at LRHS.
Ms. Murphy also gave insight on her reaction to winning. "I was totally surprised! That day, I heard kazoos playing in the hallway and when I looked out there, I saw a parade of administrators and students carrying balloons and a sign coming to let me know I had won. I had no idea, and it was a great way to find out I had been named Lakeland's Teacher of the Year." 
However, the winning was no surprise to her fellow teachers. 
When talking with Ms. Jessica Geyer, a business teacher at Lakeland and a friend to Ms. Murphy, she described her experience working with her. "I have known Ms. Murphy for 20 years, since I was a student myself here at LRHS! We have been coworkers for 8 years now, and coached tennis together in 2018. Working with Ms. Murphy is always a ton of fun." However, Mrs. Geyer is not the only one who greatly enjoys working with Ms. M. 
Ms. Megan Curry, an English teacher at LRHS, described her experience working with Ms. Murphy. "I have known Ms. Murphy for 18 years.  Throughout the years, we have worked on seven musicals together.  We have always had so much fun creating and working with one another." She added, "I consider myself lucky to call Ms. Murphy, a friend." 
Mr. Andrew Truong, a math teacher at Lakeland also shared, "She has a real gift connecting with students both inside and outside of the classroom." He also complimented her style with, "Plus, her outfits are always on point." (Fun fact: Ms. Murphy has won best dressed teacher in the senior superlatives in past years.)
It's clear that Ms. Murphy is extremely well deserving of the teacher of the year title. Her teaching methods, extracurricular involvement, and kindness to others does not begin to justify her excellence. Many are overjoyed to see her accomplishments. 
Ms. Geyer told The Ledger, "Ms. Murphy is so unbelievably deserving of this title. I am honored to 'pass the torch' to her, and I know that the torch is now in great hands. Congrats Ms. Murphy!"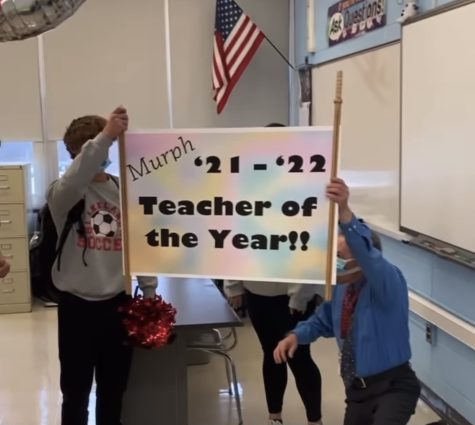 Mrs. Curry added, "I am so excited for Ms. Murphy.  to receive the award for Teacher of the Year. She is so deserving of this special honor. For as long as I have known her, Ms. Murphy has always gone above and beyond for her students." 
Ms. Murphy closed with, "I will continue to work hard with my classes and extracurricular activities in order to keep up my positive impact on the students and school." As far as goals go she shared, "My goal is for students to not only learn the material, but to enjoy being in class."
Leave a Comment
About the Contributor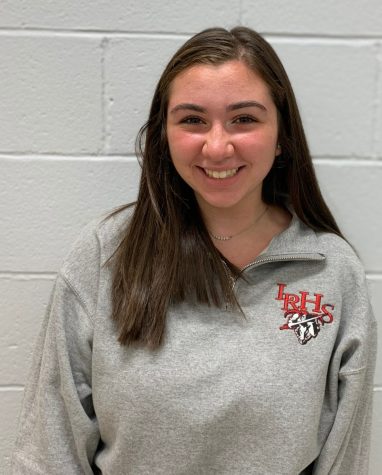 Emily Becker, Staff Writer
Emily is a freshman at LRHS and staff writer for The Lancer Ledger. While this is Emily's first year in journalism, she hopes to produce some informative...