Safety and Security: Lakeland Puts New Policies in Place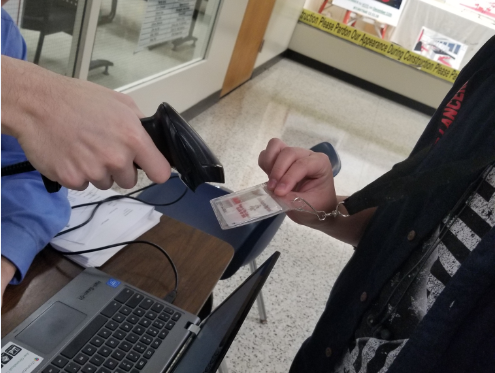 Every year, Lakeland Regional High School takes steps to ensure the safety of its students and staff, and the 2018-2019 school year was no exception with new campus rules implemented, cameras installed, and building protection measures taken.
Dr. Matt Certo, principal of Lakeland, says that the number one priority of the administration is to keep the staff and students safe and that plans and procedures in place are reviewed regularly. "When we make any adjustments to safety measures here at Lakeland, I think it's important," he says. "We always have to continue to look to try to do things that are going to continue to keep all of us safe." Lakeland vice principal, Dr. Ronald Finkelstein, continued that sentiment, talking about how these policies put in place concern the problems that go on in today's society.
In addition to wearing lanyards and carrying student IDs to scan when walking around the campus, this year, students can no longer enter the front doors of the building before and during the school day. On top of that, all visitors to the school must be buzzed in, wear a yellow lanyard, and be escorted to wherever they need to go to. Dr. Finkelstein states these new rules are in place to "better screen people coming in and out of the building. We only really want people coming into the building who have business here".
New security cameras have also been installed throughout the school to better keep an eagle eye on all happenings at Lakeland, and security film has been placed on all first floor windows around the school to make it harder to look into or break into the building.  The administration has also put more teachers are on duty to monitor the halls during blocks. All these measures put in place to greatly increase the safety of everyone in the school.
The security measures didn't end there. Over the summer, a secure area between the main office and main front doors was built. The secure area has a space for packages, including forgotten textbook and lunches, to be left. Visitors to the campus can not enter school unless buzzed in again after entering the secure area.
All who enter Lakeland can be reassured that they are entering a safe environment with an administration and staff that endlessly care about safety and security. And, if you see something suspicious in school, don't hesitate to report it to someone.