Chasing Normalcy: What LRHS Can Expect Next School Year
June 16, 2021
COVID-19 changed the idea of normalcy for everyone, especially schools. At Lakeland Regional High School, the five full in-person school days with 80 minute blocks, lunches, and study halls that students all knew had been stripped away and replaced with an altered schedule. LRHS followed a two semester schedule with rotating virtual and in-person classes for a majority of the year. Students attended school until 12:10 rather than 2:35, and did not have lunches nor study halls. Clubs became all virtual, sports had to follow stricter safety protocols, and overall, Lakeland gained a "new" normalcy. 
With COVID-19 improving in New Jersey, the future for the upcoming school year is looking more normal than ever. The Lancer Ledger staff sat down with some of the LRHS administration to see what students can expect for the next school. 
Hopes and Goals for Next School Year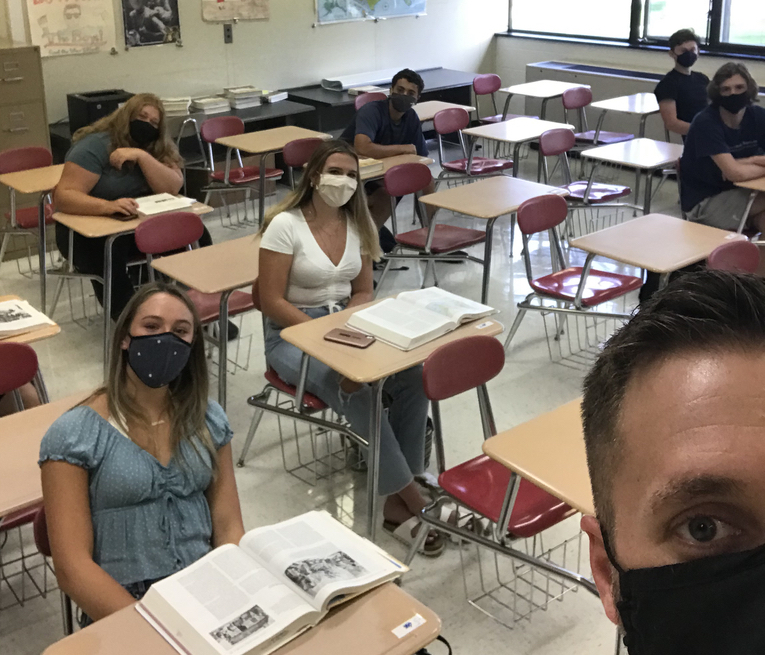 Assistant Superintendent of Curriculum & Instruction Mr. Michael Novak's hopes to return to some form of normalcy that Lakeland had before this pandemic in the upcoming school year. Mr. Novak also hopes to achieve the familiar feeling of continuity again next school year.
Currently in LRHS, all students and staff are required to wear masks inside the building. As for next year, here's what we've heard: In an interview, Mr. Novak said he hopes to "come back to a normal situation where students won't be required to wear masks." 
Chief Administrator Mr. Hugh Beattie also has goals he hopes to achieve next school year. Mr. Beattie wants to take what Lakeland has lost over "the past year and a half and re-establish a lot of positive things." Mr. Beattie is ready to "move forward," and is hopeful for what the future has to hold for the Lakeland community. 
What to Expect in Next Year's School Schedule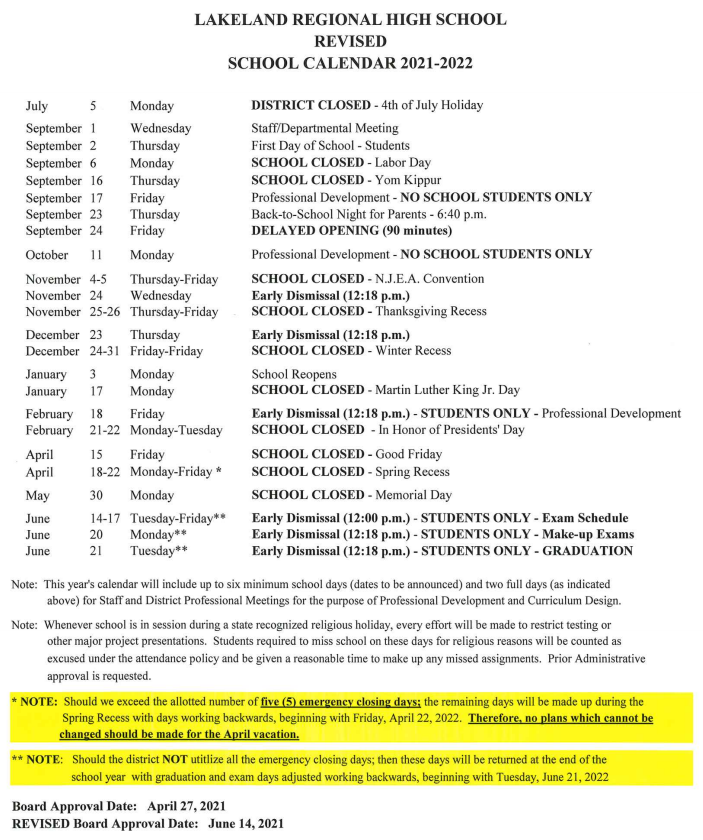 COVID-19 brought a lot of changes upon LRHS, one of the most significant being a complete schedule change for staff and students. As mentioned earlier, the 2020-2021 Lakeland school year followed a two semester schedule, with four 60 minute blocks, and an overall shortened school day. This was much different than the alternating A and B day schedule with five 80 minute blocks students have normally followed. With next school year looking more normal than ever, Mr. Novak explained that Lakeland is currently "on track to return as we did prior to COVID." 
In an interview with The Lancer Ledger, Mr. Novak stated that as of right now, there will be no semester schedule next year. Mr. Novak is certain that "we [Lakeland] will be going back to our AB day schedule" next school year. Alongside this, Lakeland will also be returning to five blocks throughout the school day, replacing the four blocks students followed this year. 
The administration at LRHS has also taken the time to reflect on the new schedule the school followed this year. Seeing many benefits to the shorter school day, both Mr. Novak and Mr. Beattie touched upon the possibility of maintaining shorter blocks next year, replacing the normal 80 minutes. Alongside this, Mr. Beattie explained that the school is "looking to add an extra period at the end of each day for extra help and to get [students] involved in different activities."
The Future of Activities at LRHS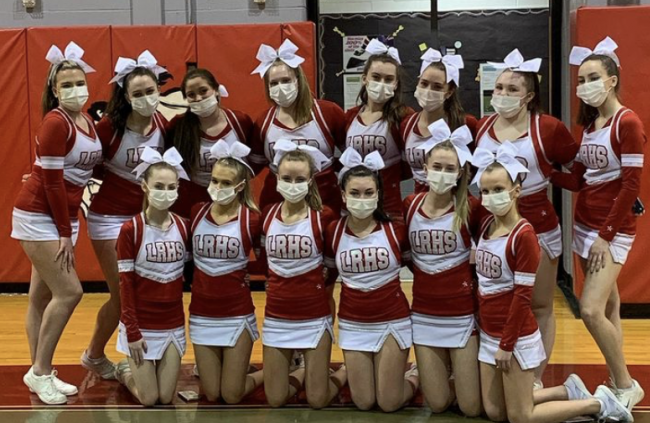 As many people are questioning how the academic school year will play out, another big question is how are sports and clubs going to operate in the 2021-2022 year? Will there be restrictions? Cancellations?
According to both Mr. Novak and Mr. Beattie, all sports and clubs will be back to normal, as long as COVID cases and effects continue to diminish.
In an interview with The Lancer Ledger, Mr. Beattie said, "We're hoping that we can get everybody out there." He also stated "A lot depends on what happens in the summer months with regards to COVID, if it continues to go away."
Mr. Novak agreed with the addition that more information will be coming in the coming weeks. However he is "under the belief right now that everything should be full go for the summer for athletics and our extra curricular programs in the fall."
Get excited Lancers, Lakeland is set to have its first full unaffected athletic season and unaffected extracurricular activities since 2019.
Hope For The Future
It is no surprise that COVID-19 had such a substantial impact on our school's community, however it's great to hear that the administration has high hopes and expectations for the upcoming summer and fall.