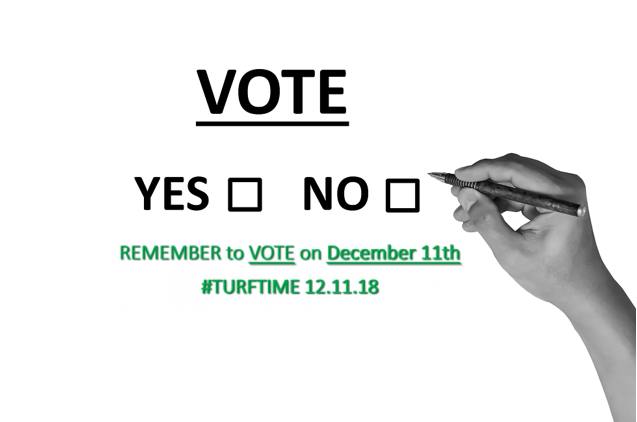 Turf Time: Time to Vote
Recently the whole #turftime movement has grown here at Lakeland. Green ribbons around the school, green bracelets, and an even more excited Mr. Yost than usual. This has been a long time coming. For years, there has been some sort of talk or minor speculation of a new turf field, and, now that it is actually a reality, it is clear that a new field could really benefit the students of Lakeland Regional High School.
It is fairly obvious to most students that the Lakeland field is in very poor shape. Despite the best efforts of the groundskeepers, much of the grass has been ripped up which can really affect the play of our sports both during practice and games.

Mr. Yost, Lakeland's athletic director, wholeheartedly supports a turf field at Lakeland for a variety of reasons. One that rings true for both the athletic department, athletes, and fans is the competitive edge a turf field would bring the school. Yost explains, "It will allow our teams to practice on the same field where they play games.  It will allow us to play on a similar surface that we would play on in the county and state tournaments. It will limit the number of games that are postponed or moved." On top of all this, a turf field would make the actually play of the sport better for athletes, continuing to give them a competitive edge. For example, soccer players have said that the cut up grass field really complicates dribbling and passing.
Additionally, and most importantly,  the broken up field can lead to injuries. Mr. Yost calls a turf field a "safe surface," and anyone who has played on a grass field understand why. If a athlete hits a divot in the field the wrong way, they can easily twist an ankle or fall and injure something.
It's been rumored that there are seniors, some of whom can vote during this referendum, saying they don't care about Lakeland getting a turf field since they will be graduated before they get to play on it. But remember, this field will be more than just helping athletes of sports at the high school. It will really help the image of the school, and possibly even the town, becoming a place we can put alumni pride in. It will also be a place that can be used by many town sports teams other than those of Lakeland. Also, the construction of a new turf field would not have an impact on the class of 2019 graduation location, which will still take place outdoors unless the weather does not permit it.
For more info, check out Lakeland's Track and Field referendum page: https://www.lakeland.k12.nj.us/site/Default.aspx?PageID=3834