October: Sport's Season Shone
December 21, 2020
Although 2020 brought us unconventional sports seasons, LRHS still has a lot of celebrate. Athletes rejoiced to be able to get out on the fields again this fall, and we hope more sports can resume as we enter the new year. Here are a few highlights of 2020:
Throughout 2020, junior Angelina Perez has continued to make a name for herself as one of the top athletes in the state. This fall, Perez was named NJ XC Runner of the Year, made All State, and won the national Nike Cross Virtual Race (and broke records doing it!)
Fellow runner and junior, Abby Horevay, has also made a name for herself in the cross country world, being named an All State athlete for the 2020 season, and having the past honor of being The Record's female athlete of the week in 2019.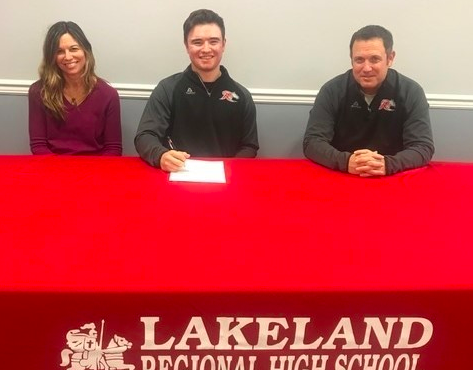 Last, but not least, senior TJ McCormack also brought an All State title to Lakeland for the 2020 football season.
On top of the All State honors, seniors Tyler Gilligan and Emily Castiglia both made Lakeland proud as they make big plans to continue shining in college. Gilligan signed his Letter of Intent to play Division I baseball at Rider University, while Castiglia accepted a full athletic scholarship to complete on the Division 1 gymnastics team at Bowling Green University.
To make this athletic year even more memorable, senior Troy Hernandez showed LRHS what strength in trying times really is. Hernandez not only fought cancer and won, he also continued working hard to join his teammates for the final games of the 2020 football season. To say his "strength and toughness is unmatched" is an understatement. Hernandez's story is a reminder to keep fighting in these trying and uncertain times.