The Passion Behind the 2020 Bowling Season
March 17, 2020
Although it was a disappointing season this year for Lakeland Regional High School, Coach William Rubinstein had the honor and pleasure of working with a team of 19 bowlers. The bowling team, with the leadership of Coach Rubinstein, dedicated the 2019-2020 year to growing and solidifying skills.
LRHS competed in a total of 14 matches and one tournament. The boys won two games, and the girls won one game. The team always goes to counties, although the girls did not have enough bowlers last year to go. Coach Rubinstein feels that counties is "a good experience and [it's good] to see the new environment." Boys placed eighth in Lakeland's division for counties and fourth for states. The way it works is that LRHS will go against schools that are the same size and "that impacts it because the bigger schools have so much more to draw from in terms of athletes and students."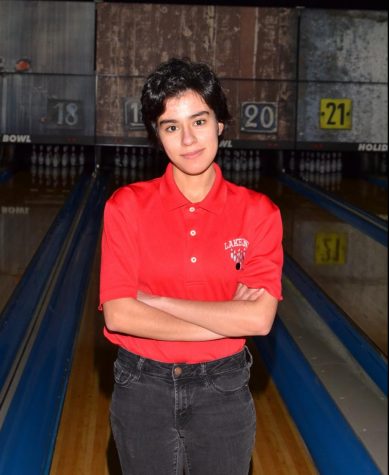 Captain of the girl's team, Michelle Grilli said, "It was a bit overwhelming at first, but once everyone adjusted to the larger team, it was beneficial to all of us, and we grew really close." When asked about losing so many seniors next year, Grilli reassured The Lancer Ledger, saying, "While it is disheartening to know that the team will be losing so many good players, I am confident that the juniors will be suitable replacements, who will exceed the expectations we left behind." 
Coach Rubinstein credits senior Ray Schmitt for a lot of the teams success, and deems him the number one player of LRHS. Schmitt was first team county and first team conference. He bowled a high game at counties, and went to the second round of states.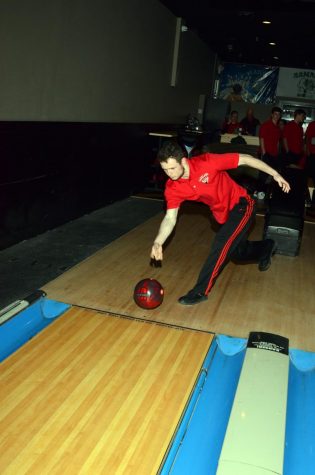 The team consisted of three returning boys and one girl. The varsity squad and JV squad both had a total of eight bowlers, with four girls and four boys for each. The tryouts are around the middle of November, and the season started on December 9th. Students get nine chances to practice bowling before the competition starts. There are no cuts, and new bowlers are encouraged to seek extra training. Coach Rubinstein encouraged lacking members to get lessons from local pros, and he always offers extra lessons to help his new bowlers, and even offers personal coaching over the summer. 
The home house for LRHS is Oakland Bowl, and Coach Rubinstein said, "Lakeland's Athletic Director, Mr. John Youst has been very generous." The bowling alley provides all the equipment – house shoes and balls – for free, but Coach Rubinstein feels that "to get better, you have to get your own equipment. Part of that is due to the ball molding to your fingers, and house balls can be made of cheaper material."
When asked about which teams LRHS should worry about, Coach Rubinstein said, "West Milford and Wayne Hills are unbelievable. They are top of the division, and even better than PCTI. Wayne Hills has had a solid team for the past two years, and they had the best girls team and won the county tournament with both teams." However, Coach Rubinstein said that he and the coaches go way back, and there is always good sportsmanship between all of the bowlers. Everyone encourages each other.
"
If you can't bowl well, bowl your average."
— Coach Rubinstein
An extremely passionate man when it comes to bowling, Coach Rubinstein explained why he loves the sport so much, and how we can all grow to love it too. "It's all about improving yourself. You're always trying to PR (beat your personal record), and it makes you feel great. There's not a lot of stress. It's supposed to be fun, and it's calm and civilized. It's a sport where you can compete in it for life, because it's not limited by age. Bowling stays with you for your entire life." 
"
Strikes are great, but spares win the game."
— Coach Rubinstein
However, bowling is not the only thing that Coach Rubinstein is passionate about. He is also a man who deeply values family, and he believes bowling is "a family event that is fun, and most places now let kids bowl for free." Coach Rubinstein tries to instill his passion into his players, because he believes they will improve more quickly, look forward to practice and matches, and grow more confident. Due to this passion, Coach Rubinstein doesn't prioritize winning. He believes that "if you can't bowl well, bowl your average." He knows that in the end, technique and precision is more important, and he loves the quote, "Strikes are great, but spares win the game."
Unfortunately, LRHS is losing a lot of seniors from this year next season. More than half the team, in fact. Coach Rubinstein isn't worried, though, because he believes that the returning players are good, and he hopes that more players will join the team.