Lakeland Celebrates Bring Your Child to Work Day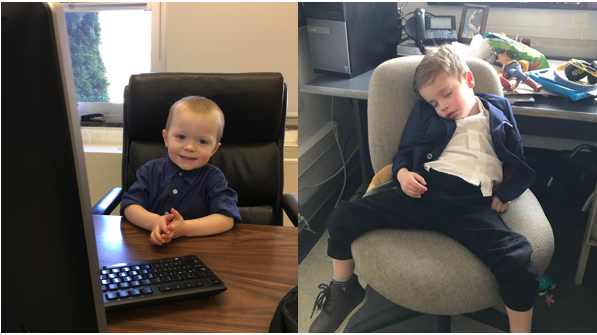 Lakeland celebrated Bring Your Child to Work Day early on April 17, 2019. Ms. Melissa White, English teacher, planned the fun event for LRHS, which welcomed 60 children who shadowed their parents throughout the day. The day brought smiles to everyone's faces, from the parents and their kids to the LRHS students who got to share this special time with them.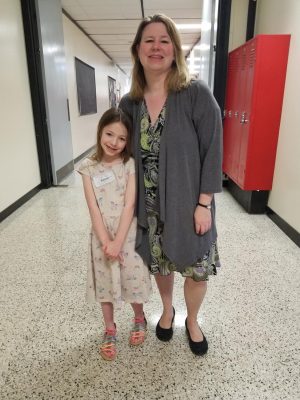 Throughout the day, teachers throughout the school stepped up to make the day extra special for the kids. The journalism class, led by Ms. Kali Spoelstra and her daughter Everly (3), interviewed the kids or had the kids interview their parents and staff members – check out the results below! The video class, led by Mr. Jon Lauder and his daughter Rose (5) and son Jacob (1), taught the kids about TV studios and let them record an episode of the Lakeland Daily Show which will air in the coming week. According to Ms. White's daughter Ella (7), they are going to become "YouTube famous!" Ms. Melissa Gentile, special education English teacher and experienced Yoga instructor,  took time out of her day to lead the kids in a fun yoga practice. Ms. Kelly Norton, student assistance coordinator, brought in the "Easter Bunny" for the kids to pet and play with for a little pet therapy throughout the day. Lastly, Ms. Tammy Ozdemir, business teacher, with her kids John (11) and Sofia (8), ended the day with some fun slime making for all.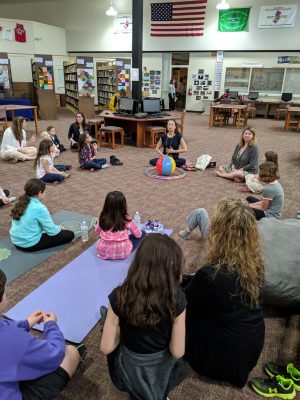 The Ledger sat down with Ms.White and asked her about the wonderful event and the significance of it to the parents and their kids. Ms. White stated, "I organized it because my daughter wants to be a teacher, and she can see the other side of the classroom. It's also good for the rest of the kids to see how the classroom works on the other side." When asked about what the best part of the day was, Ms. White responded affectionately, "Getting to spend the day with my kid." Lastly, we asked how her daughter feels about Bring Your Child to Work Day. "Ella loves it! She starts asking in September about when it's going to be. With luck, I'll have both kids next year."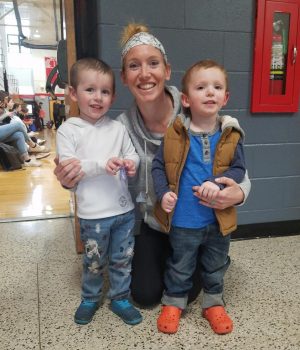 Ms. Nicole DeCarlo, physical education teacher, brought her twin boys, Austin and Landon (3). She told The Ledger how special it was to share this day with her kids and students. "This was my first year taking my children to work, and I LOVED it! I have been waiting for this day for a very long time and it was so much fun. Watching my students interact with my children was eye opening and amazing. I truly enjoyed it and look forward to future years!"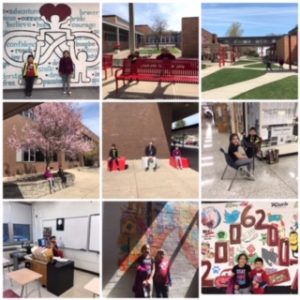 Mr. Lauder also shared how great the students of Lakeland are with the kids.  He said, "My daughter was looking forward to this for months because she had so much fun last year, and that's largely due to how the students interact with her (and all the other kids that come in). Just another great example of the community here at Lakeland."
This was a day of fun and learning for the kids, and it wouldn't have happened without Ms. White and all the teachers and students who took time to help make it extra special.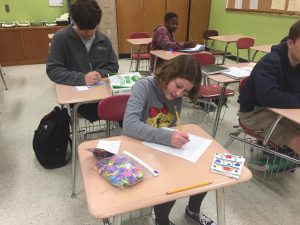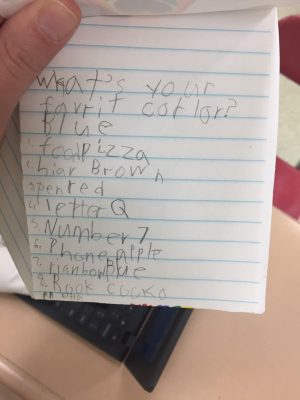 Now enough about the teachers, time to focus on the kids.The journalism class were joined by a handful of LRHS teacher's children to learn about journalism, be interviewed, and interview their own parents. Here are the results:
Ms. Curry's kids James (10), Jake (7), and Charlotte (6)
English teacher Megan Curry's kids came to school eager to do what their mom does everyday. Mrs. Curry's children sure were not shy. Jake he was looking forward to "playing basketball in the gym." James said, "I'm ready for an exciting day of watching videos." Charlotte said she was excited for a fun day and that she "loved everything about her mother."
Ms. Hess' niece Angela (11)
Angela was excited to join her aunt, math teacher Ms. Donna Hess, for the day. Angela told The Ledger she loves teal and gymnastics. She also said her aunt is "nice," but her favorite subject isn't math; it's English!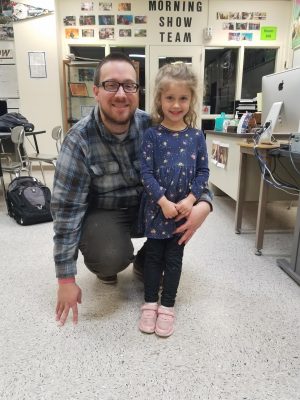 Mr. Lauder's daughter Rose (5)
Mr. Lauder's child Rose, likes Gabriella from High School Musical more than her dad. We came to this conclusion after asking her what she likes about her father and she answered with "nothing," but she likes High School Musical.
Ms. Saco's kids Adriana (12) and Nick (9)
Adriana and Nick, Spanish teacher Amy Saco's two kids, were both excited to be at Lakeland for Bring Your Child to Work Day. Adriana and Nick were both asked what they were excited about, Adriana answered, "to play Kahoot!" and Nick answered "to play Fortnite." We also asked them why they love their mom. Nick's love for his mom comes from her buying him v-bucks for Fortnite, and Adriana's loves her mom because she lets her bake.
Ms. Schwarlow's kids Jake (13) and Kyle (10)
Physical education teacher Mrs. Kim Schwarzlow's kids made a tiny list of things they were excited to do that day, which were "dodgeball" and "everything". When they were asked what they love about their mom, the kids said that she is a "good gym teacher" and "good role model".
Ms. Spoelstra's daughter Everly (3)
"Red" is Everly's favorite color.