Lakeland Staff Spice It Up with a Chili Cook-off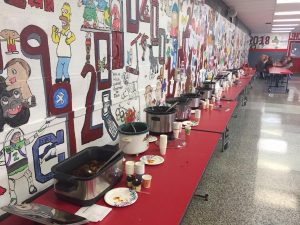 Lakeland staff knows how to spice things up! Teachers and staff participated in a Chili Cook-off as a fun way to spend lunch before an afternoon full of professional development on January 25, 2019. The winners were Mr. Randy Coren and Ms. Karen McCormack, who tied for Best Tasting Chili, and Ms. Kathy Garofano, who won Most Creative Chili.
The Lancer Ledger got to sit down with the winners to discuss their award winning chilis: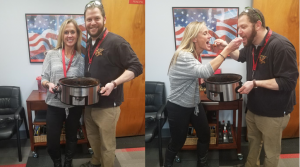 Ms. McCormack, special education teacher, stated that the base for her delicious chili is three different meats: beef, veal, and pork. After adding some kidney beans and black beans, she says the amazing flavor comes from a can of fire roasted tomatoes and a packet of Hidden Valley Ranch seasoning mix.
Although Mr. Coren, teacher of technology, won't share the secret to his award winning dry rub, he told the Ledger that his chili included short ribs braised in a "rare beer from years past". Mr. Coren's chili really is a labor of love; prep started a whole week prior to the competition. This chili is so delicious that his family demanded he remake the meal for them four days later.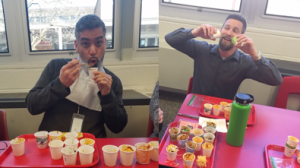 Lastly, Ms. Garofano, special education teacher, told us how she got creative. Instead of the traditional beef and beans, Ms. Garofano opted for diced up boneless chicken, medium pasta shells, and beans. Her secret flavor ingredient? McCormick White Chicken Chili seasoning packet.
Lakeland staff want to give a special thank you to Ms. Caitlyn Vauter for bringing the idea to our Alumni Committee and to all the English teachers that helped organize the event.