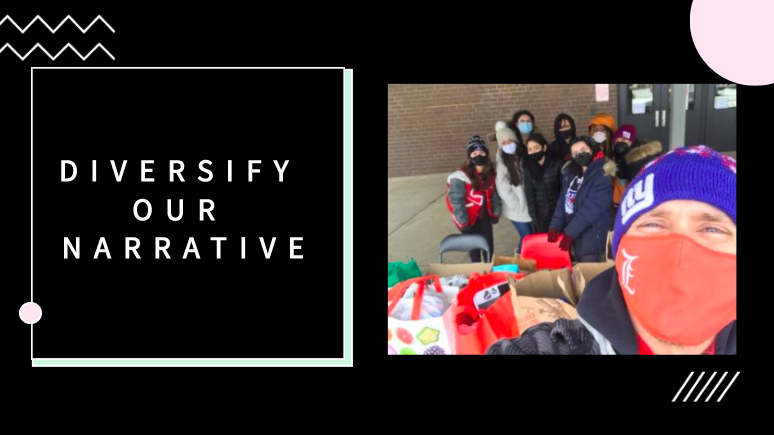 Courtesy of Emily Weinpel
Lakeland Regional High School's chapter of Diversify Our Narrative (DON) hosted a donation drop off for Her Drive, where over 1000 individual items were donated for the Circle of Life shelter in Newark, New Jersey, making it one of the most successful donation drop off events in recent school history, on February 13, 2021. As a new force at LRHS, DON is working to help strengthen our community by helping those who have been too often overlooked and need it the most.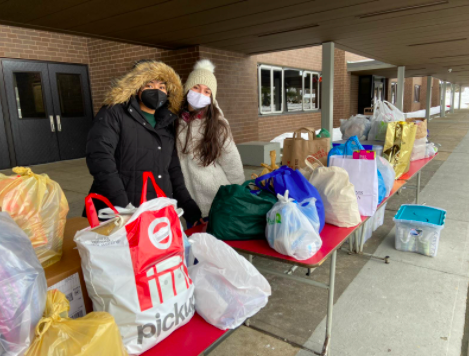 Because of COVID-19, an immense toll has been taken on homeless shelters, where people struggle even more to have access to basic necessities. Specifically, feminine hygiene products, like pads and tampons, are often disregarded as essential. However, not having access to these items has led to many women developing health issues and makes menstruation a larger burden for women with gynecological conditions. Sateria Venable, a member of the Society for Women's Health Research Endometriosis and Fibroids Network, stated, "This is a time where we need to pivot to think about health care differently, and menstrual symptoms do not stop — they are constant, and women are suffering."  As a result of this public health crisis paired with a global pandemic, lower income people have been hit especially hard with issues like thisAfter Lakeland senior and member of DON Amber Abels discovered Her Drive online, students in DON began working with the nonprofit organization to host our very own drive in hopes of helping with this public health crisis. Her Drive is an organization based in Chicago, Illinois that works to provide essential items to people in need as a way to help combat period poverty and hygiene poverty across the country. Despite only starting in June 2020, the organization has already helped collect over 152,000 items and counting. 
While checking in with Her Drive through Zoom meetings periodically and meeting online with fellow members to plan, members of DON helped design flyers and spread them around the town, while also promoting the drive on social media. After reaching out to Facebook groups, Nextdoor, and door to door to her neighbors, DON member Precious Star, senior, said, "We haven't done something like this before, so I hope it goes well."
To DON's surprise, this drive ignited a fire of unity within our community, as the group saw students, faculty members, local citizens, and local companies show up with bags of donations in the cold. Items from tampons to body wash to makeup to clothing were received during the drive, making it one of DON's first major successes at LRHS. 
Diversify Our Narrative is a large nonprofit organization comprised of high school and college students working to expand the curriculum in schools with diverse and anti-racist texts.  Lakeland's chapter of DON first started back in August 2020, where Star, sophomore Melanie Norberto and I attended a Board of Education meeting to pitch the idea of bringing DON to Lakeland. In the wake of protests and civil unrest in our country, a call to action was necessary– and the administration agreed. We expressed how education is an important sociological agent for people, so it should be diverse and unbiased. With this in mind, we initially took our new club in a curriculum oriented direction. By meeting with teachers and referencing documents from the official DON website, we successfully integrated many new ideas in Lakeland's official curriculum plan. Through new material and dialogue, our goal continues to be to make education for LRHS students more inclusive and well rounded.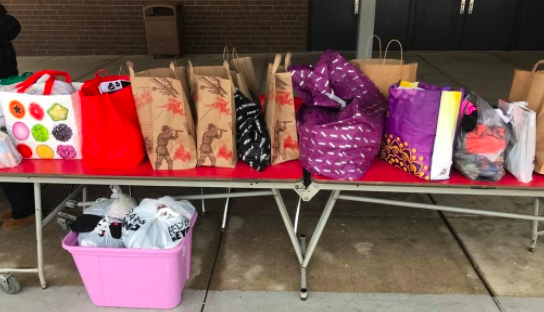 However, we found that solely focusing on reforming curriculum is not something that can be achieved within a year, let alone during a pandemic. Therefore, we decided to add community outreach as a club goal, and expanded our club to roughly 10 active participants willing to join the fight. This gave us the opportunity to achieve more goals in our mission as a club, while continuing to also work toward undoing systematic oppression in our education system in the long term. So far, we have been able to schedule weekly informative posts on our Instagram and reach out to a myriad of faculty members and organizations willing to help, the most recent one being Her Drive. 
I cannot express how grateful I am for the people who donated, along with the people who helped at the drive, including Star, Norberto, Abels, junior Emily Damian, junior Sara Starace, junior Genesis Cabrera, junior Julia Schimmenti, junior Gabriella DeSimone, and our advisor, Assistant Superintendent Michael Novak. 
This drive allowed for local people to help those who have faced challenges that have been overlooked, aligning with our mission as a club. While it can take careful planning during a time like this, it is clear that the opportunities we have to instill meaningful change in our community are abundant, and it is necessary to take action towards them. This is an age of heightened affliction in society, where it is vital for us to look inward and think about how we can educate ourselves and use what we can to give back. We can all do better.
If you would like to get in touch with Diversify Our Narrative to learn more about our mission or are interested in joining, contact us at [email protected] or DM us on Instagram @DiversifyOurNarrativeLRHS.