Spread Love and Kindness: Lakeland Becomes More Culturally Aware
Hang on for a minute...we're trying to find some more stories you might like.
Lakeland has spent 2018-2019 encouraging community and diversity awareness throughout the school. Students and staff have taken part in assemblies and events to spread love and bring awareness to LRHS.
One organization that has been driven to bring diversity into the school is the ERASE club. The club, which stands for End Racism and Sexism Everywhere, is encouraging the school as a whole to immerse themselves into many different cultures to become more culturally aware. Each month, different cultures and communities are celebrated.
Most recently, this May the ERASE club helped Lakeland celebrate Asian Pacific American Heritage Month. Ms. Patty Kebrdle, the ERASE adviser and history teacher, led the club in the event by sending out links to teachers that contain Asian Pacific art, history, and literary references that teachers would be able to bring into the classroom and incorporate into lessons. Additionally, the club decorated the school with information and facts that highlight the Asian Pacific culture.
The ERASE club also helped the school honor and celebrate Black History Month in February and Women's History Month in March. With daily facts and information presented on the Daily Show and the bridge decorated with posters to inform what each community has contributed to our country, many students became more aware of the importance of celebrating different cultures and groups.
On top of this, the Lakeland administration has found ways to spread diversity awareness and love throughout this year. This school year, LRHS had three assemblies that focused on opening students' eyes to what hate, bias, and racism can do to people.
On May 13, the LRHS community welcomed Holocaust survivor Ms. Miller, who shared her experiences and first-hand views on anti-semitism and other forms of discrimination. Ms. Miller, who spent two weeks in a concentration camp, stressed to students what hate speech can lead to.
"Ms. Miller's representation about her experience surviving the Holocaust was equally harrowing and captivating. If we all had just one ounce of the perseverance and grit that she possesses, we would be far better people," said Mr. Michael Novak, humanities supervisor who had the opportunity to be at the assembly.
The administration also had students take part in the Kind Campaign in November, that challenged the females at Lakeland to take examine girl on girl bullying. Additionally, this past January Lakeland students were welcomed into an assembly that dug into the effects of bias, prejudice and stereotypes, which was led by hate crime officer Dave D'Amico.
The school community hopes these events organized by students and staff help LRHS grow and become an even more accepting environment.
The theme of this year is clear: spread kindness and love.
About the Writer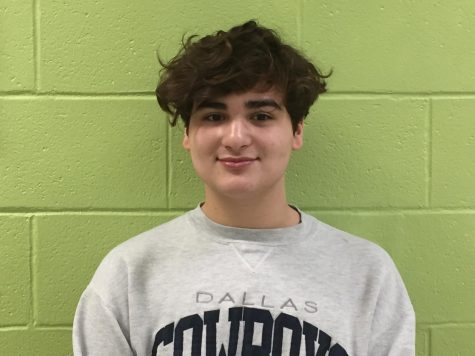 Sergei O'Hernandez, Staff Writer
Sergei is a sophomore at LRHS and staff writer for The Lancer Ledger. This is his first year writing for The Ledger. He is very vocal about his opinions...