Top Ten Most Unusual Schools Around the World
January 8, 2019
We come to Lakeland every day, attend the same classes, and see the same people. We probably all had times when we wished that we could go to another school or wondered what other schools have that Lakeland does not. There are many schools all over the world that are strange and contain the unexpected. The details of these schools will shock you. Here are the top ten most unusual schools around the world:
Gulu Elementary School (Sichuan Province, China)
This elementary school, in the isolated mountain village of Gulu, is literally in the clouds. Its pupils have to make a dangerous commute up an 800-meter rock face every day, and the petrifying journey takes almost 5 hours! On top of this, some pupils are as young as only six years old.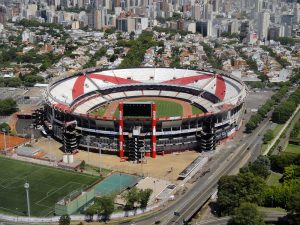 River Plate Stadium (Buenos Aries, Argentina)
Ever sat in a long, boring class and just couldn't wait to go home and watch a good game? Well, at River Plate Stadium, you can watch a game of soccer while getting your education at the same time. Over 2,000 children attend this school that doubles as a soccer stadium. Sometimes, classes finish early, since classes and soccer practice take place at the same time.
Train platform schools (India)
These schools for marginalised children do not actually take place on trains. They take place at train stops in order to help students who have financial constraints and, as a result, do not have access to schooling. Over 4,000 children had been offered education by this program.
The Cave School (Zhongdong, China)
This elementary school, beneath a rocky overhang, is believed to be the only cave school in the world. Being in one of the poorest provinces of China, Guizhou, it offers education to children from remote villages. The region has had water and food shortages from desertification and drought that have left it struggling to keep its residents alive.
Witch School of Salem (Salem, Massachusetts and online)
The Witch School of Salem's curriculum is no way like Lakeland's. While it has a physical location in Salem itself, the majority of its 40,000 students take witchcraft courses online.
Forest Kindergartens (Europe)
Throughout Europe, outdoor preschools encourage children to interact with the world around them. Students get in touch with nature, build things using materials they find in the forest, and, of course, play.
Brooklyn Free School (Brooklyn, NY)
A lot of us probably want to just come to school and not be graded for the assignments we complete. At Brooklyn Free School, there is no curriculum whatsoever. The students make the rules. They can choose the classes they want or don't want, or even not have to attend school at all! They can nap, play, or choose to carry out independent studies, which can last years.
School of the Future (Pennsylvania, US)
Ever gotten tired of doing assignments, taking quizzes and tests, and writing notes on paper all the time? At the School of the Future, you wouldn't have to worry about that ever again! This Microsoft-designed school is completely digital. No more worrying about flipping through books.
Orestad Gymnasium (Copenhagen, Denmark)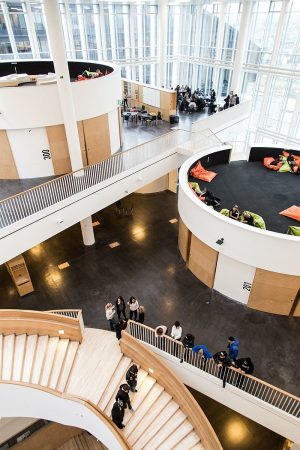 At Orestad Gymnasium in Copenhagen, you can feel more out in the open. Instead of ordinary classrooms, it has nice, wide open study environments with huge pillows, so you can feel free to relax while focusing on your schoolwork. 
Abo Elementary School (Artesia, New Mexico)
Abo Elementary is the first school in the US built underground. It not only functioned as a school, but as a fallout shelter during the Cold War, since it was constructed in the early 1960s. The roof of the school served as a playground for the students, and many of them did not know that the school doubled as a shelter. (Feature image)